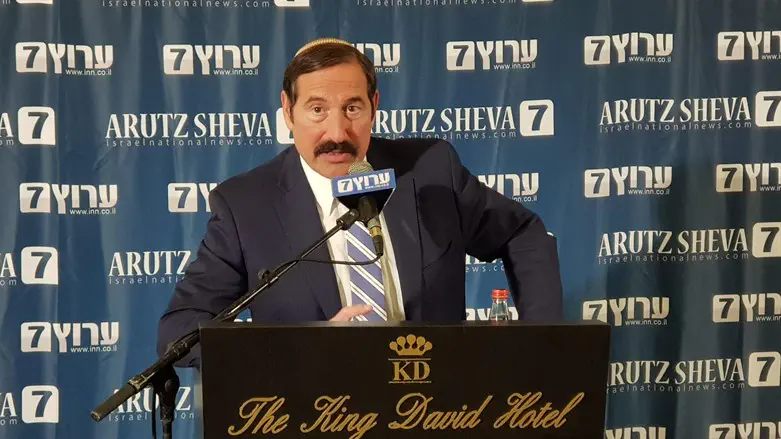 Dr. Joseph Frager
Arutz Sheva
I was reminded this week by one of the most influential American Jewish Families' advocating for Israel since it's establishment 75 years ago how very crucial it is to continue the Tradition. I am talking about the Jacob's family from Englewood, New Jersey. I have written in the past about Bobby Jacobs incredible relationship with Senator Jesse Helms that transformed America's relationship with Israel. What I didn't know was Bobby Jacob's special connection to Democratic Congressman John Murphy of Staten Island. Congressman Murphy had a close friendship with President Lyndon Johnson the 36th President of the United States. On October 12th 1966 President Johnson visited Staten Island and singled out Congressman Murphy for the great job he was doing for Staten Island.
Since the 1956 War after Israel was forced to give back the Sinai Peninsula, Israel was promised by America and President Eisenhower to be able to use the Straits of Tiran unimpeded. Eilat became a major port and lifeline for Israel as a result. During President Johnson's tenure in the White House, Gamal Abdel Nasser threatened closure of the Straits of Tiran. Israel asked President Jonson to send the 6th Fleet to prevent Nasser from closing the Straits of Tiran. President Johnson refused to do that. Bobby Jacobs asked his friend Congressman Murphy that if President Johnson could not send the United States Navy to prevent a disaster could he at least send Fighter Jets to Israel to help them defend themselves.
Congressman Murphy was able to convince President Johnson to do just that. President Johnson had already sent 200 Patton Tanks to Israel. Later in 1966 he agreed to send over 200 A4 Skyhawks and in 1968 agreed to send 50 Phantom F4's. In May of 1967 Gamal Abdel Nasser closed the Straits of Tiran forcing Israel to go to war in June 1967. Israel was able to pre-emptively wipe out Egypt's Air Force. Although the shipment of A4's and Phantoms came after the Six Day War, the promise to send the jets helped Israel better calculate its strategy and led to its pre-emptive strike. It is simply amazing what one man could do to advocate for Israel.
Now fast forward to the present. A bipartisan delegation led by Senator Jacky Rosen of Nevada visits Israel and refuses to meet with the Democratically elected Otzma Yehudit Party and the Religious Zionist Party. This is a slap in the face to Israel and Democracy. If that wasn't bad enough, the President's Conference decided to do the same thing. Jews the world over should be in an uproar. Israel advocacy has helped Israel survive and thrive. I am honored that I had a chance to host MK Simcha Rothman of the Religious Zionist Party recently. I hope many other organizations follow suit. These parties represent the future of Israel.