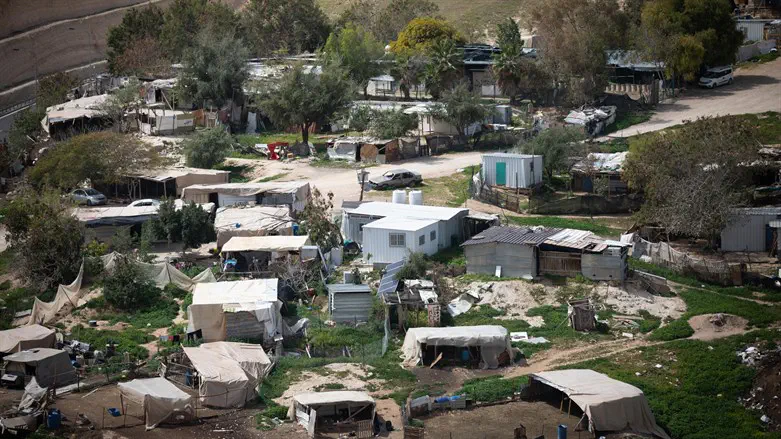 Khan al-Ahmar
Yonatan Sindel/Flash 90
Regavim on Tuesday evening reacted to the Supreme Court's decision to grant the government an additional extension, the ninth, in the case of the illegal Arab outpost of Khan al-Ahmar.
"The Supreme Court is once again covering for the government's failure to formulate and enforce comprehensive policy or to articulate a cogent vision for Judea and Samaria," the movement said.
"Regavim's original petition for the removal of the illegal outpost known as Khan al-Ahmar went to court over 13 years ago - and ever since we have been attempting to shake the Israeli government out of its reverie. Khan al-Ahmar is more than a collection of makeshift shacks and tents. It is the flagship of a systematic, well-funded program of annexation by the Palestinian Authority. As such, it has also become a flashpoint of international subversion of Israel's national interests and sovereignty."
"The time has come for the State of Israel to grow up, to stand up, and to take itself seriously. Otherwise, no one else can be expected to do so," concluded Regavim.
The Supreme Court agreed to grant the government an extension to demolish Khan al-Ahmar, but rejected its request for a four-month extension and only granted it two months.
In September of 2018, the Supreme Court ruled that the government could demolish the outpost. However, the demolition has yet to be carried out and the State of Israel has asked the Supreme Court for several extensions, most recently last week.
Reports last week said that Prime Minister Benjamin Netanyahu promised National Security Minister Itamar Ben Gvir that Khan al-Ahmar would be evicted before submitting the State's request to the Supreme Court to postpone giving its response on the issue of the illegal outpost.
Sources close to Netanyahu said that the reasons for the State's latest request for an extension were the visit by US Secretary of State Antony Blinken to Israel last week and the start of the Muslim month of Ramadan.