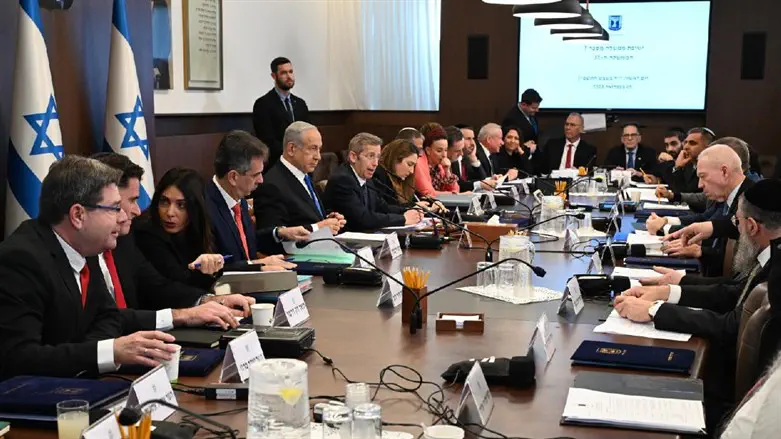 Netanyahu leads Sunday's cabinet meeting. February 5th 2023
Haim Zach/GPO
Israeli Prime Minister Benjamin Netanyahu on Sunday announced the establishment of a new border town near the Gaza frontier.
Speaking at the opening of the government's weekly cabinet meeting Sunday, Netanyahu said his government would finalize the decision today establishing the new town of Hanun, which will be built near the border with the Gaza Strip.
"Today, the Cabinet will complete the establishment of a new community – Hanun – in the area adjacent to the Gaza Strip," Netanyahu said, adding that the decision to establish a new town next to the Hamas-ruled enclave demonstrated Israel's "resilience" and determination to "build up the Land of Israel."
"We decided on its establishment during our previous government and today we are completing its establishment by budgeting for the planning of the community."
"We will thereby put the establishment of the community into action. Setting up the community is additional testimony to the resilience of the area adjacent to the Gaza Strip and to the strength of the State of Israel against all threats, including any trickle to which we respond with full force. We see people taking about their decisions to come and move to the area adjacent to the Gaza Strip and establish new communities in the area."
"We are proud to build up the land of Israel and we are proud to strengthen settlement in all of its areas."
The initial plans for Hanun were first green-lighted under the previous Netanyahu government in 2020.
Hanun will be built near Kibbutz Sa'ad, which is located 2.2 miles (3.6 kilometers) from the Gaza Strip. The new town will be administered by the Sdot Negev Regional Council.
The government said Sunday that the name Hanun is tentative, and could be changed before the community is completed.
Under a resolution proposed by Construction and Housing Minister Yitzhak Goldknopf (United Torah Judaism) last week, the new town will be marketed as a mixed religious-secular community, with a projected population of roughly 500 families.
"This is a joyous day for me and for all citizens of Israel," Goldknopf said Sunday. "Establishing a new community is of great national importance especially at this time, and especially in the area adjacent to the Gaza Strip."
"Upon taking office, I set as my top goal to continue building, developing and strengthening settlement. This community will give strength especially to the Prime Minister. The light of setting up the community will dispel all of the darkness that some are now trying to bring on the people of Israel."
"The new community is expected to provide an answer to demand for settlement in the area and will strengthen our southern border with the Gaza Strip. This construction is part of the building up of the land of Israel and thus joins to the action of the Almighty in building Jerusalem."