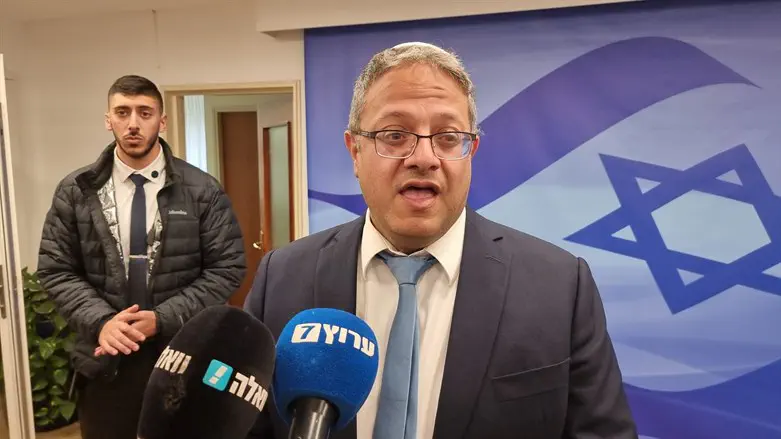 Itamar Ben-Gvir
Israel National News
National Security Minister Itamar Ben-Gvir is not satisfied with the IDF attack in the Gaza Strip on Wednesday night, billed as a response to Hamas rocket fire into Israel, and believes Israel should instead be eliminating the terrorist organization's leaders in targeted assassinations.
In an interview on the sidelines of a conference for directors of religious institutions in Eilat, Ben-Gvir told Israel National News editor-in-chief Uzi Baruch: "I am not satisfied with the IDF's response in Gaza tonight. I think that our response needs to be totally different. Hamas needs to know that the new government is changing the equation. For every rocket fired, there will be targeted assassinations. I'm in the cabinet, and I could bring down the government, but of course we need to see how to achieve the most."
On Wednesday night, IDF fighter jets struck a storage site holding raw chemicals used by Hamas to produce rockets, and also hit a weapons manufacturing site, both located in the central Gaza Strip.
תקיפות צה"ל ברצועת עזה
דובר צה"ל
The strike was carried out in response to a rocket that was intercepted by the IDF Aerial Defense Array (Iron Dome) on Wednesday afternoon. Sirens were sounded in Sderot, Ibim, and Nir Am, following the launch.
Residents reported hearing several explosions following the siren. A 50-year-old woman slipped and was lightly injured while attempting to flee to a bomb shelter in Sderot. Magen Adom Adom personnel treated her at the scene and evacuated her to hospital.