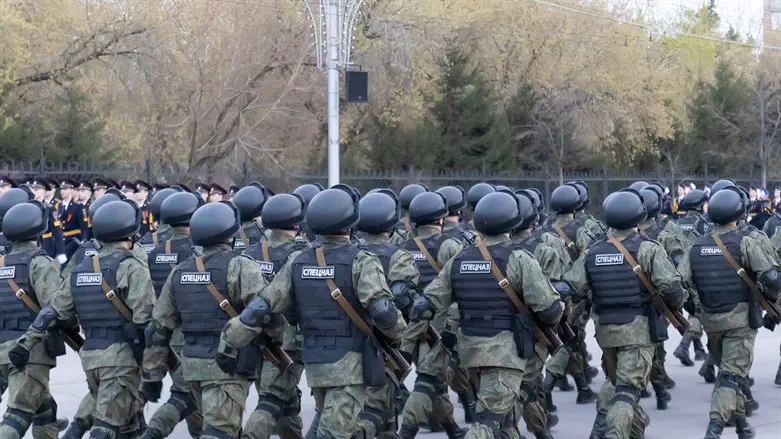 Russian soldiers
iStock
Russia is planning a major offensive to coincide with the first anniversary of the war in Ukraine, according to the Ukrainian Defense Minister, Oleksii Reznikov. Russia invaded Ukraine on February 24, 2022.
Reznikov noted that Russia mobilized 300 thousand conscripted soldiers last September, but said that assessments of the number of troops massed at the border indicate that up to half a million soldiers are being readied for battle.
"We do not underestimate our enemy," Reznikov told French media. "Officially, they announced 300,000, but when we see the troops at the borders, according to our assessments it is much more."
Last week, Ukrainian President Volodymyr Zelenskiy said that Russian forces were trying to make gains in order to showcase their progress by the war's first anniversay, adding that the situation in the Donetsk province was dire.
"A definite increase has been noted in the offensive operations of the occupiers on the front in the east of our country. The situation has become tougher," Zelenskiy said in a video address.
Reznikov said the coming offensive, one which is widely predicted to be the fiercest to date in the war, would probably be concentrated in the east and the south of Ukraine.
Last week Oleksiy Danilov, secretary of Ukraine's National Security and Defence Council, also warned that Russia was preparing a wave of offensives to mark the anniversary of the February invasion, and suggested that Russia would attempt to penetrate deeper into Ukraine, beyond the Donbas area (Donetsk and Luhansk) which President Putin has long claimed as rightfully Russian, due to the large number of ethnic Russians living there.
The governor of Luhansk, Serhiy Haidai, has claimed that Russian forces are expelling residents near the Russian-held parts of the front line to prevent them from giving away Russian troop deployments to Ukrainian artillery spotters.
"There is an active transfer of [Russian troops] to the region and they are definitely preparing for something on the eastern front in February," Haidai said.
Ukraine's Defense Minister was in France to meet President Macron and finalize the purchase of air defense radars. He is also exerting intense pressure on other European nations to provide his country with F-16 fighter planes, in addition to the tanks that have already been promised (but which will not be delivered until the end of March).
"We tell our partners that we too must be ready as soon as possible," Reznikov told French media. "That's why we need weapons to contain the enemy."