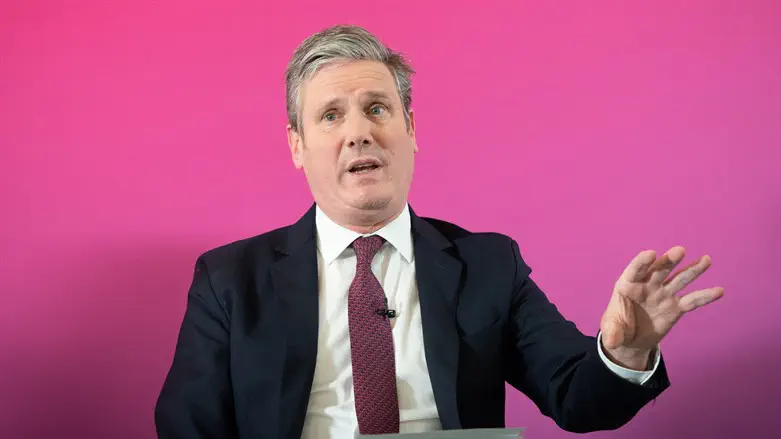 Labour leader Keir Starmer
Reuters
UK Labour Party leader Keir Starmer pledged to continue ridding his party of antisemitism during a weekend speech in which he slammed pervious leader Jeremy Corbyn for ignoring the problem.
Starmer said that when he took over in April 2020, he "knew we had a huge task ahead," the Jewish Chronicle reported. He promised to continue rehabilitating the party from the "stain" of antisemitism.
"We had to change our party and prepare for power all in one go. Not change for change's sake – change with a purpose to make our Labour Party fit to serve our country," Starmer said.
"That's why we had to support NATO and show it's non-negotiable, show we want business to thrive and prosper, understand the importance of sound money, country first, party second. But most of all – it's why we had to rip antisemitism out by its roots."
Noting in his speech that International Holocaust Remembrance Day was the day before, he spoke of the "burden of anxiety and pain that Jewish communities still carry as part of that history."
He praised the Community Security Trust (CST) for their work providing security to the UK Jewish community. "This is the awful reality Jewish communities still face in Britain. The work of the Community Security Trust is vital."
He noted that the CST told him that in 2018 and 2019, "Labour-related antisemitism was a key driver of sustained anti-Jewish hatred."
"That's the stain we are trying so hard to remove from our party," he said.
Speaking of ridding Labour of antisemitism, Starmer said: "Let me clear – this work never stops. Our commitment to fighting all forms of hate and discrimination never stops. Never again never stops."
"So I say to Jewish communities there and everywhere: We know we must never let up, and we won't," he added.