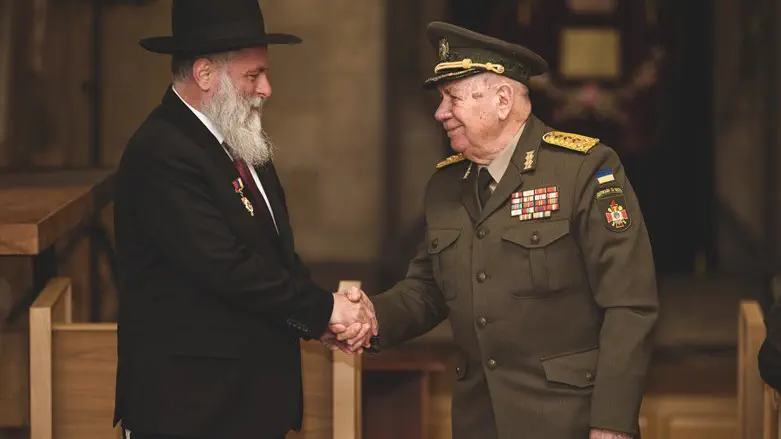 Rabbi Yonatan Markovich and Colonel Valentin Timpoievich
Jewish community JCC Chabad in Kyiv Spokesperson
Early today (Thursday), red alart alarms was heard throughout Ukraine, and in the morning, an air attack was carried out over the capital city of Kyiv in which several civilians were killed. One of the rockets hit near the synagogue of the Jewish community JCC Chabad in the middle of the morning prayers.

Meanwhile, the Jewish community continues its humanitarian activities and assistance to the elderly and members of the Jewish community in the city. As part of the activity for the elderly in Kyiv, on the eve of International Holocaust memorial Day, a delegation from the management of the Ukrainian Veterans Organization (World War II veterans who fought in the Soviet Union's army against the Nazis) arrived to mark the historic day together with the Jewish community in Kyiv.
The veterans, including colonels and former senior officers in the Soviet Army, are in close contact with the Jewish community in Kyiv and with the Chief Rabbi of Kyiv and Chabad Shliach Rabbi Yonatan Markovich.
In the past year, the Jewish community has extended its involvement in the organization, and it helps them with food, warm clothing and humanitarian aid throughout the war.
91-year-old Colonel Valentin Timpoievich handed out Rabbi Markowitz with a medal, on behalf of all the members of the organization, for his activity and courage for the Jews of Kyiv and the citizens of Ukraine in general and during the war. "We represent 25 thousand soldiers who fought the Nazis when they wanted to destroy the Jewish people, today the Jewish community, led by you, are saving us".
"While the whole world is celebrating the victory over the Nazis, we must not forget the heroes who saved the world from the hand of evil" says Rabbi Yonatan Markovich, rabbi of Kyiv. "The whole of Ukraine has been under aggressive violence for almost a year. Our job is to help out and provide aid and food, shelter, winter equipment and warm clothing to the residents and those in need. The connection of the Jewish community with the veterans of World War II is based on deep gratitude to the heroes and The Jewish duty to help save the life of every person".