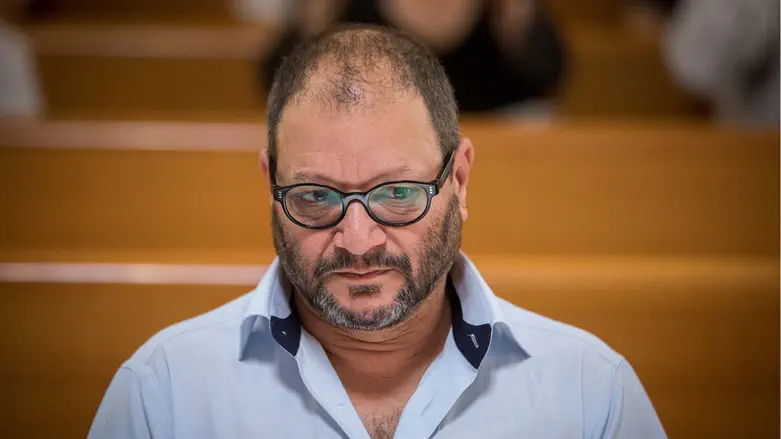 MK Ofer Cassif
Yonatan Sindel/Flash90
The State Prosecution has decided to close the case against MK Ofer Cassif, who in August last year participated in a demonstration near the tomb of the Prophet Samuel just outside Jerusalem, during the course of which he addressed Arab protesters saying, "I promise you that we will continue our struggle against the occupation and against these scum, and together we will win."
Immediately after his speech, left-wing activists and Palestinian-Arabs attacked a Jew who was waving an Israeli flag nearby.
An update sent by the Prosecution service to the Btsalmo rights organization stated that: "Deputy State Prosecutor Alon Altman has decided not to order the opening of a criminal investigation due to a lack of basis for criminal suspicion that would justify such an investigation."
The update added that, "The words used by the Knesset member [Cassif] as they appear in the footage do not positively indicate that MK Cassif was referring to Jews when he said that he would continue his struggle against 'these dirty people.' While saying these words, MK Cassif seemed to gesture to somewhere behind him. However, it is not known who he was pointing to and what their identity was. In addition, MK Cassif continued by saying, 'This is not a struggle between Jews and Arabs; this is a struggle between those who fight for justice and those who commit crimes. This is a struggle, and we will continue to fight on the side of justice against criminals.' From this, it would seem that he is referring to those who, in his eyes, are committing a crime. Therefore, it would not seem that he is referring to any specific national-ethnic group as the law [against incitement] requires and therefore his words cannot be considered racist.
"Furthermore," the update adds, "MK Cassif's words did not indicate a call to violence. Not only that but MK Cassif can be heard telling the crowd to 'ignore them, they don't deserve your attention,' referring to the same people he was gesturing to beforehand who can be heard shouting negative things at him. From this, it is apparent that not only did the MK not incite violence, but that he also called on the crowd to ignore provocations. Hence it seems that his words do not consist of any criminal incitement to racism."
Shai Glick, CEO of Btsalmo, commented on the decision: "This is a racist, delusional, and infuriating decision that declares Jewish blood free for the taking. If a Jewish MK had said something similar about Arabs, the whole country would be in an uproar, and he would have been tried and sentenced long ago. Harming Jews, however, is always permitted. This only serves to prove the selective enforcement that the Prosecution has been engaged in for years. We won't give up and will of course submit an appeal."