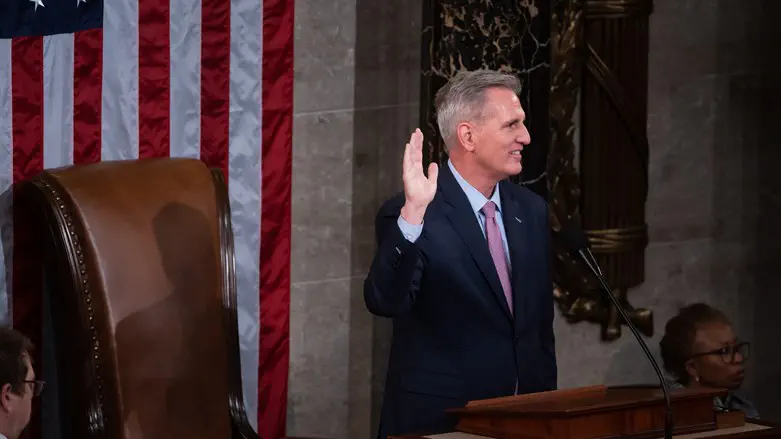 Republican Leader Kevin McCarthy, R-Calif., is sworn in as House Speaker
Reuters/Craig Hudson/Sipa USA
After 15 rounds and 4 days of wrestling and wrangling, Congressman Kevin McCarthy was voted in as Speaker of the House of Representatives. The last time the process required multiple ballots was in 1855. In 2023 the proceedings were relatively tame compared to then. In that pre- Civil War environment it took 133 rounds and two months to pick a Speaker. The Speaker is second in line after the Vice President to become President in case of a need for succession. Interestingly, after the Speaker the law of succession is as follows: President Pro Tempore of the Senate, Secretary of State, Secretary of the Treasury, and Secretary of Defense. Secretary of Transportation is way down on the list.
Kevin McCarthy is a patient man. His patience paid off. Although the situations are vastly different, it took Prime Minister Benjamin Netanyahu five tries over close to four years but he finally became Prime Minister of Israel. They both had to work with diverse groups. They both had an arduous and grueling struggle to get to their respective positions. Both persevered and succeeded.
In both cases it was worth the wait.
Speaker McCarthy was the keynote speaker at the National of Council Dinner when I was Vice President of the organization. He recently was featured via video hook up at the ZOA Dinner. He is a true friend of Israel and the Jewish People. One of his first acts as Speaker was to cancel Ilhan Omar's position on the all important House Foreign Affairs Committee. She has spewed Anti-Semitism and lies about the State of Israel. She should never have been placed on the Committee by the Democrats.
Kevin McCarthy has his work cut out for himself. In his own words, "Moving forward, House Republicans will keep our commitment to advance legislation that supports law enforcement, secures our southern border by returning to common-sense policies that respect the rule of law, makes America energy independent and empowers parents through a Parent's Bill of Rights."
Just as Prime Minister Netanyahu had a close relationship with Speaker John Boehner 2011-2015, he has a solid relationship with Speaker McCarthy. This bodes well for America and Israel. Although both had a difficult journey to the top, they kept their focus and both are and will be worth the wait.