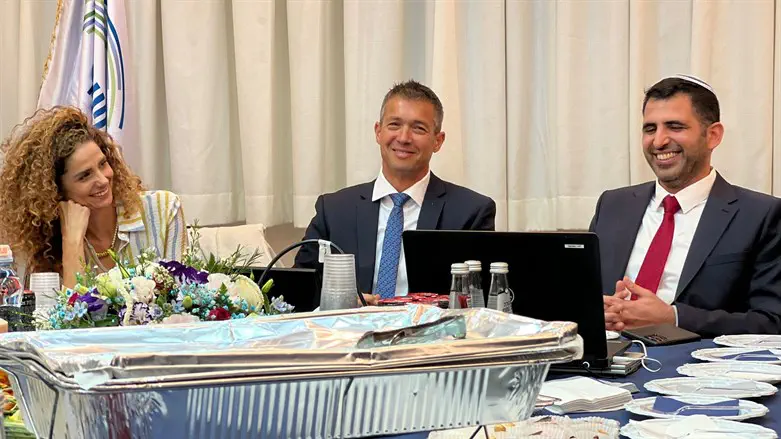 Yoaz Hendel hands over authority at the Communications Ministry to Dr. Shlomo Karhi
Spokespersons
The new Communications Minister, MK Dr. Shlomo Karhi of the Likud party, has decided to reverse some of the most controversial and most publicized reforms of his predecessor, MK Yoaz Hendel. Specifically, he is canceling the reforms to the kosher cell phone platforms that were vehemently opposed by those who use kosher cell phones, namely the haredi community.
Hendel had been in the process of implementing far-reaching changes to the way kosher cell phone platforms operate when his government lost power. Among the changes he proposed was allowing kosher SIM cards to be inserted into non-kosher cell phones (those with internet access) without invalidating the kosher cell phone package. Hendel claimed to be acting to benefit the haredi community and bring prices down, although it was unclear how his reforms would have brought about financial savings.
On Monday, at the official ceremony of transferring authority from Hendel to Karhi, the new Communications Minister stressed that, "I intend to cancel the reforms to the kosher cell phone platform within the coming days."
Karhi added, "The outgoing minister made a decision regarding the ways in which the haredi public uses cell phones. After intensive study of this issue, I realized that the motivations for this reform were not concern for the needs of consumers but rather, an attempt to interfere with the ways in which individuals choose to use their cell phones and to craft the preferences of private individuals.
"We will not intervene in the decisions of any individual in any sector," Karhi clarified. "During my term, the policies of this ministry will leave the freedom of choice in the hands of private individuals."
Regarding the calls of the Shas and Degel HaTorah parties to create competition between a number of kosher platforms, Karhi has yet to come to a decision. Agudat Yisrael is opposed to introducing competition, most probably because the Ger Hassidic group, the largest faction within Agudat Yisrael, runs the existing platform.
Karhi also stated that, "A large number of threatening headlines appeared once it was made known that I was being appointed to this position. Headlines will not deter me. I stand by my word and intend to move the Israeli communications market toward being a freer market with individual choice and more competition.
"In all matters of policy, I intend to seek the advice of experts and learn the issues in depth before making decisions," he added. "We intend to bring about a revolution in the country's communications' infrastructure, bringing fiber-optics to all parts of Israel, introducing competition to areas in the periphery which are underserved, privatizing the Post Office, and more.
"In the past, the Communications Ministry has been run as if this were a third-world country," Karhi added. "In Africa, many countries already have fiber-optics; in Ramallah they have excellent connectivity, while here successive ministers were dealing with newspaper articles. The key to success is building, not destroying, expanding competition, and allowing everyone's voices to be heard."