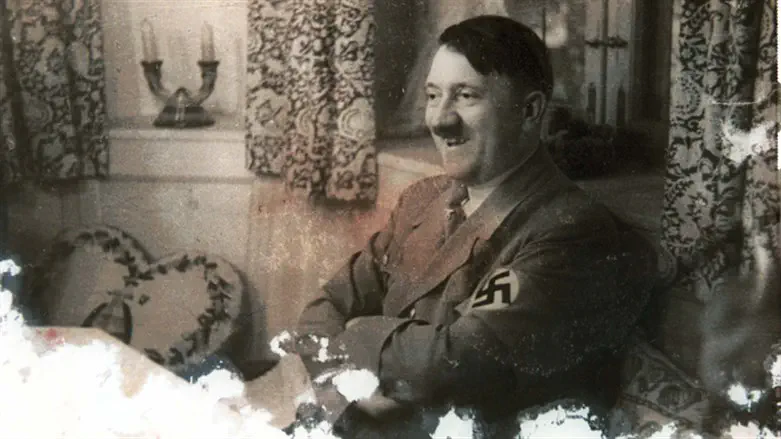 Adolf Hitler (reproduction)
Flash 90
A watch said to have belonged to Nazi leader Adolf Hitler sold on Friday for $1.1 million at an auction in the US, the BBC reported.
The Huber timepiece, which sold to an anonymous bidder, shows a swastika and has the initials AH engraved on it, according to the report.
Other articles in the auction included a dress that belonged to Hitler's wife, Eva Braun, autographed pictures of Nazi officials and a yellow cloth Star of David imprinted with the word "Jude", which is German for Jew.
Jewish leaders had condemned the auction ahead of the sale at Alexander Historical Auctions in Maryland, but the auction house - which has sold Nazi memorabilia in the past - told German media its aim was to preserve history.
Talking to German press before the sale, Alexander Historical Auctions said that its aim was to preserve history, and that most sold items are kept in private collections or donated to Holocaust museums.
"Whether good or bad history, it must be preserved," Senior Vice President Mindy Greenstein was quoted as having told Deutsche Welle. "If you destroy history, there is no proof that it happened".
This is not the first time that items belonging to Hitler have been auctioned off. In 2019, a Munich auction house sold items belonging to Hitler, as well as of infamous Nazis Hess, Goering, and Himmler.
A prominent Lebanese businessman, Abdallah Chatila, later bought over 600,000 euros of the items, with the sole purpose of giving it to the Jewish community to do with it as it sees fit. Chatila was later honored by the Conference of European Rabbis (CER) for his actions.
This past December, the Queensland Jewish Board of Deputies in Australia denounced an auction which included an antisemitic children's book, a signed portrait of Hitler, sunglasses worn by Goering at the Nuremberg trials, and Himmler's childhood letters.
This past September, an auction house in British Columbia, Canada announced it will not proceed with a sale featuring Nazi memorabilia after a Canadian Jewish organization expressed concern.
(Israel National News' North American desk is keeping you updated until the start of Shabbat in New York. The time posted automatically on all Israel National News articles, however, is Israeli time.)