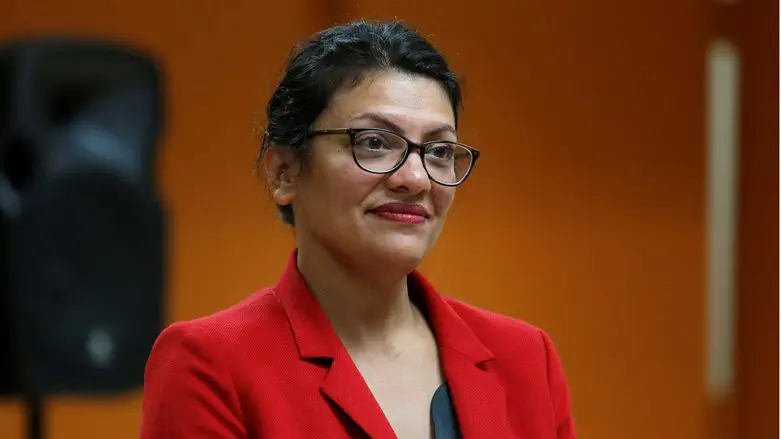 Rashida Tlaib
Reuters
The American Jewish Congress (AJC) condemned Congresswoman Rashida Tlaib (D-Mi) for her recent statement in response to the death of Al Jazeera journalist Shireen Abu Aqleh in which she called Israel an "apartheid regime," claiming that all "Palestinians are targeted by Israel."
On July 8, Rep. Tlaib released a statement saying: "The State Department has comprehensively failed to carry out its mission as it relates to the murders of an American citizen. This failure sends a clear message to the world: some American lives are worth more than others, and some "allies" have license to kill with impunity."
The AJC responded: "In the strongest possible terms, the American Jewish Congress condemns the Congresswoman's hurtful and offensive rhetoric and urges her to retract this unjustified disparagement."
"For the Congresswoman to draw this horrible conclusion after the State Department facilitated the release of the bullet that killed Aqleh, conducted a thorough and independent audit of the events, and executed trilateral, diplomatic dialogues, is egregious. While the answers in the State Department's investigation were not definitive, one thing most certainly is: the efforts of the US Security Coordinator (USSC) have and will always be invaluable, and the unwavering commitment of our State Department diplomats is something that mustn't ever be taken for granted.

"What is also clear, in this case, is that Rep. Tlaib fails to see those points.

"To make matters even worse, her statement claims that Abu Aqleh was shot by an "Israeli sniper" and was "killed by Israeli forces in what was likely a targeted assassination." To accuse a developed nation, not to mention the United States' greatest ally, of assassinating an innocent member of the press is nothing shy of blasphemy. Moreover, Rep. Tlaib must stop in her quest to capitalize on the loss of an innocent American civilian - to score political points.

"The death of Shireen Abu Aqleh was a tragedy on all accounts. Since her passing, however, many entities have quickly rushed to conclusions regarding what or who may have been at fault. For Congresswoman Tlaib, this has been her standard operating procedure. While we respect the Congresswoman's right to express her views, her consistent casting of biased, untrue, and hateful rhetoric - especially in the wake of losing an American citizen, is flat-out dangerous and furthers tensions. In addition, for Rep. Tlaib to discount the hard work of American diplomats and their efforts to uncover the truth simply because their findings were not what she was looking for, is far from okay.

"Better yet, it is just plain wrong.

"Since taking office, Rep. Tlaib has sought to use her power and authority to cast blame onto the Jewish State, and now that blame extends to our diplomat's commitment to upholding their oaths. She has frequently accused the Middle East's only true democracy of serving as a harbor for violence against the Palestinian people, and suggests that the State Department has failed to carry out its mission. From fighting against cooperation agreements between Israel and the United States, accusing Israel of "killing with impunity," and supporting the antisemitic boycott, divest, and sanctions movement - Congresswoman Tlaib has established a spiraling pattern of casting discredit on America's strongest ally and any who stand in her way. Simply put, this type of behavior must not be tolerated by a sitting member of the House.

"The American Jewish Congress demands Rep. Tlaib retract these hateful and absurd comments. Moreover, we urge the Congresswoman to grant the respect our US State Department's work to uncover the truth so rightfully deserves.," the AJC statement concluded.