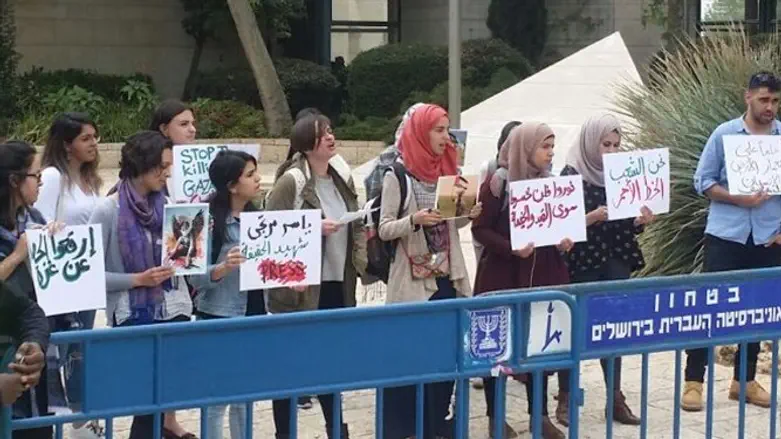 'It was Happy Independence Day - if you celebrate it'
In what other country in the world would you find a major university qualifying their Independence Day greeting to students? What does that little "if you celebrate it" do to those who see it? Who would even think up such a thing?
But it happened here in Jerusalem.
During Israel's Independence Day holiday this year, any student who opened up the Hebrew University of Jerusalem smartphone app was greeted with this screen:
Hebrew U Yom Haatzmaut
INN: twitter
which translates as: "Independence Day! For those who celebrate it, happy holiday!"
This is the same university that did not play the national anthem, Hatikvah, at the graduation ceremony in 2017 "out of consideration for others", meaning out of consideration for Arabs. It seems at first glance to be the same line of thinking that was behind this nod to Arabs for whom our independence is their self-named "Nakba" (catastrophe).
Apparently the university received a number of complaints. Right wing human rights organization Btsalmo sent a formal complaint to the Council for Higher Education and the Knesset Education Committee in which they protested "against the insidious bias against the State of Israel that can be seen in academia" which is exemplified in this particular act.
As a result of the complaints, the screen was changed to a simple "Independence Day, Happy Holiday".
The Zionist NGO, Im Tirzu called it "shameful".
"This illustrious academic institution, that was once the epitome of moral behaviour and values, has been losing all connection with reality over the years. Instead of the university being proud of the Zionism that created a model state with human rights for all citizens, a state that functions as a beacon in comparison with many other states, it is embarrassed by it."
One student who wishes to remain anonymous gave me the following comment:
"Unfortunately, the Hebrew U actually supports the extremists, allowing them to hold Nakba events, allowing them to insult IDF soldiers in uniform who study on campus, [allows] opposing Jerusalem Day, and now the university denigrates Independence Day. We call on the university to rethink their approach and return to a Zionist position."
A university spokesperson told me that: "The Hebrew University wishes a happy holiday to everyone! Throughout Remembrance Day and Independence Day full expression of the holiday can be seen on the Hebrew University Facebook page."
Mekor Rishon reported that the university denied any political intentions behind the message on the app. "The wording on the app tried to be up-to-date regarding the Corona situation. As soon as we understood that there was some misunderstanding, we took it down," they told the newspaper. Good try. In that case, it would have said something like "if you can celebrate despite the lockdown." The rest of the country had no problem celebrating, as it happens.
So what do you think, dear reader and consumer of the media news? Was this a poorly conceived attempt to be empathetic because of how Israel celebrated Independence Day 2020 -- quietly in their own homes and balconies instead of out on the streets and parks? Or was it a concession to the Arabs who are waiting to celebrate Nakba Day on the day following the Gregorian Calendar date of Israel's independence (May 5)?