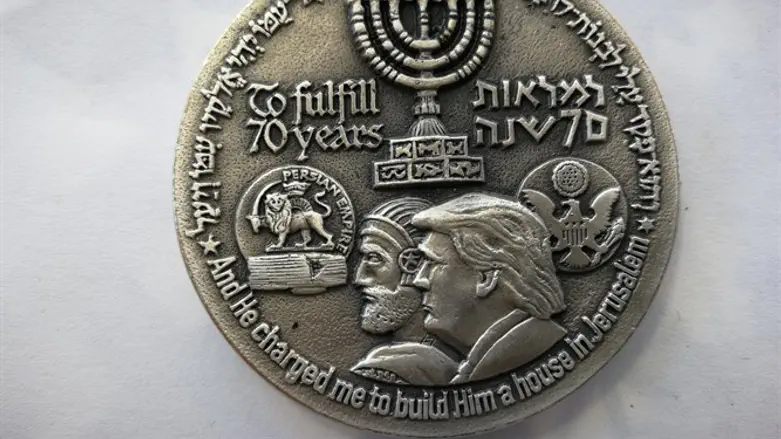 Secular Jews claim they don't exist to spite the president
Leftist Jews, aided and abetted by a willing media, have truly gone insane. President Trump last week made one of the most positive moves to combat antisemitism ever seen from a world leader, announcing a smart and necessary Executive Order to protect Jews at America's colleges and universities. And the Left would have us believe this order was itself antisemitic.
The order should be uncontroversial. It simply directs federal agencies to treat antisemitic hatred similarly to discrimination against other minority groups protected under Title VI of the Civil Rights Act. It states that "individuals who face discrimination on the basis of race, color, or national origin do not lose protection under Title VI for also being a member of a group that shares common religious practices." In truth, it is largely based upon the bipartisan antisemitism Awareness Act of 2019, which stalled in Congress. This is why so many Jewish members, including Democrats such as Sen. Jacky Rosen (D-NV) and Reps. Max Rose (D-NY) and Josh Gottheimer (D-NJ), publicly approved of the new order.
Instead, the New York Timesreported incorrectly, if not falsely, that the order "will effectively interpret Judaism as a race or nationality," rather than solely as a religion. In an instant, the Jewish left abandoned the concept of Jewish peoplehood, the idea that we share a national origin, in order to claim that the president's statement was wrong and even hateful. Only an anti-Semite would call the Jews a nationality, they argued, in order to dredge up the old trope of "dual loyalty."
Besides that this is irrelevant to the Executive Order, one who claims the Jews are not a nationality demonstrates complete ignorance of the Bible and Jewish history. How many times does the Torah refer to Am Yisrael — the nation of Israel? The Book of Exodus teaches that God took the Jews from Egypt to be His nation, and references to the Nation of Israel abound from there onwards.
Seriously, this is embarrassing. Do they think an affinity for bagels makes a person an authority on Jews?
In fact, the phenomenon of a "secular Jew" owes its existence to the fact that we are a people, rather than (exclusively) a religion. The idea of a "secular Christian" or "secular Muslim" is preposterous. But according to an AJC survey from earlier this year, nearly 60% of Jews describe being Jewish as mostly a matter of ethnicity and culture, rather than religion. Leftist secular Jews claiming we are solely a religious group would write themselves — and most American Jews — out of existence.
But in this, they are simply acting true to pattern. Just this past summer, leftist Jews abandoned overnight the universal and obvious belief that comparing Nazi death camps to anything short of genocidal death camps was minimizing the Holocaust and morally reprehensible, simply because the progressive darling, Rep. Alexandria Ocasio-Cortez (D-NY), did precisely this on a shameful video.
Now they would similarly abandon the idea that the Jews are a people, simply because they believed that the president acknowledged that we are. To a Jewish leftist, antisemitism is seen only through a political lens. If the president were to convert to Judaism tomorrow, it is not far-fetched to imagine leftists explaining that he was doing so for antisemitic reasons.
If the president were to convert to Judaism tomorrow, it is not far-fetched to imagine leftists explaining that he was doing so for antisemitic reasons.

Politics aside, the executive order is critically necessary. It directs federal agencies to consider the definition of antisemitism provided by the International Holocaust Remembrance Alliance (IHRA) when identifying evidence of discrimination. Contrary to the Times' quote from a Jewish leftist, the IHRA definition specifically states that "criticism of Israel similar to that leveled against any other country" is not antisemitic. But it describes such modern examples of antisemitism as "denying the Jewish people their right to self-determination" and calling the state of Israel "a racist endeavor," along with classics such as "justifying the killing or harming of Jews."

And that, of course, takes us right back to politics, because the so-called "pro-Palestinian" movement does all three of the above on an ongoing basis. Its map of "Palestine" is not that of the British, the Ottoman Turks, or even the Romans, but rather that of modern-day Israel. It exists to deny Jewish people self-determination, by placing all of Israel into the classic antisemitic trope of Jewish theft. It calls Israel racist and advocates for its destruction — all while attempting to replicate the Nazi boycott under the name "Boycott, Divestment, and Sanctions." And organizations such as the Students for Justice in Palestine regularly hold events honoring murderers of Jews.

It is no surprise, then, that bigots are protesting the executive order – including young Jews indoctrinated in the leftist narrative. Under the new rules, antisemitic hatred cloaked as "anti-Israel advocacy" will be no more acceptable than preaching white supremacy. That is how it should be. Anyone has the right to voice hatred and bigotry — but not with taxpayer funding.

History has taught us that antisemitism, like all forms of racism, must be nipped in the bud before it metastasizes into a societal epidemic. President Trump is working to stop the irrational hatred of Jews from spreading, but Jewish leftists are too consumed with their own irrational hatred of the president to care.

Rabbi Yaakov Menken is the Managing Director of the Coalition for Jewish Values.