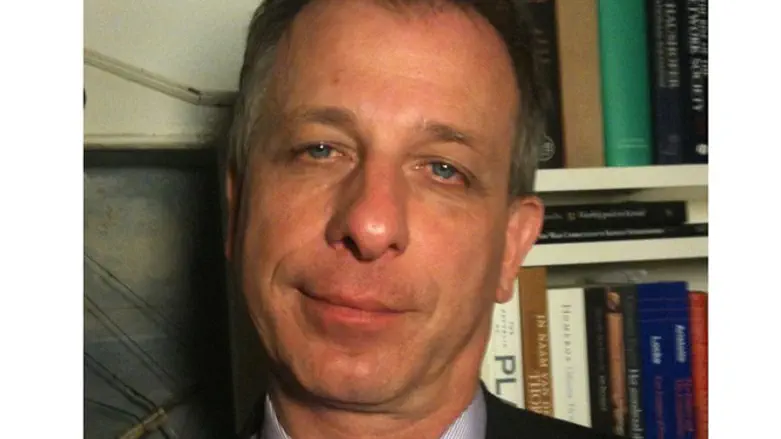 The BDS Movement's allies among the hypocritical Dutch elite
Manfred Gerstenfeld interviews Wim Kortenoeven:
How widespread is the BDS Movement?
"The anti-Israel Boycott Divestment and Sanctions Movement (BDS) is active worldwide. In the Netherlands, BDS has a fine meshed network which collaborates with other anti-Israel activists. The Dutch BDS movement and its anti-Israel allies have permeated churches, leading societal and political organizations as well as national bodies which include some of the country's highest elites."
Wim Kortenoeven is a Dutch Middle East specialist with a long career in pro-Israel advocacy. He has published several books on the Middle East and was a member of the Dutch Parliament. He is currently the director of a public affairs and consultancy firm. 
Can  you elaborate on BDS in the Netherlands? What is the Rights Forum and who promotes it?
"The Rights Forum holds a central role in anti-Israel activities. It was founded by the most influential Dutch BDS promoter and anti-Israel activist, former Prime Minister Dries van Agt, a Christian Democrat (CDA). Van Agt gained notoriety in the 1980's when he, in the capacity of Minister of Justice, provocatively called himself "an Aryan" while proposing to release the last three prominent Nazi war criminals from imprisonment in the Netherlands. Among these was Ferdinand aus der Fünten, Adolf Eichmann's special representative in the Netherlands. 
"For decades, Van Agt has sympathized and colluded with antisemites, amongst them Palestinian Authority and Hamas leaders. Although the Rights Forum denies that it is a pro-BDS organization or that it has an antisemitic agenda, its website clearly shows its BDS agenda. It also collaborates in various ways with other BDS organizations. The Forum employed at least one openly antisemitic author, Jan Tervoort, to write for its website. 
"Among the members of the Rights Forum Council of Advice one finds a number of prominent Dutchmen. Thom de Graaf is a past leader of the anti-Israeli left-liberal D66 Party and a former Deputy Prime Minister. He is currently the Vice-President of the Council of State and only resigned from the Rights Forum when he was appointed to his new position. The Council of State, hundreds of years old, is a constitutionally established advisory body to the government and parliament whose president is King Willem Alexander. 
"Other Rights Forum associates include former cabinet ministers, amongst them Laurens Jan Brinkhorst (D66). He is the father-in-law of the King's surviving brother, Prince Constantijn. The Christian Democrat (CDA) Hans van den Broek (CDA), a former minister of Foreign Affairs, is the father-in-law of Prince Maurits, a cousin of the King. Frans Andriessen (CDA) – who passed away this year – was a former three time EU commissioner and Dutch Minister of Finance. Bert de Vries is a former minister and chairman of the CDA. Jan Pronk and Hedy d'Ancona were both ministers on behalf of the Labour party (PvdA). The latter had a Jewish father.
"Another associate of the Rights Forum is Professor André Nollkaemper, a prominent legal advisor to the Dutch government. These few names, as well as others, demonstrate how extreme anti-Israeli opinions have permeated the Dutch mainstream and government.
"The fact that all of these prominent individuals remained on the board of the Forum following a scandal with its antisemitic text writer, Tervoort, is one indication that antisemitism has once again become acceptable in the Dutch social and political elite.
What about the boycotts themselves? Have they succeeded?
"The worldwide BDS movement focuses on a variety of areas including trade, culture, sport and academics. Nevertheless the academic and cultural boycott efforts have not been very successful in the Netherlands. For instance, only a few not very well-known people acted on a BDS initiative to appeal to leading Dutch musician Andre Rieu not to perform in Israel. Rieu rejected the call and performed in Tel Aviv. 
Rights Forum associate, Professor Cees Flinterman,..was involved with the Russell "tribunal" on Palestine which organized a fake criminal trial of Israel.. Flinterman hypocritically supported Saudi Arabia entering the UN Commission for Women's Rights.  

"In the business sector one large pension fund, PGGM / PFZW, divested from the shares of five Israeli banks. This was bad publicity for the fund and they reversed their action. Other pension funds did not follow.

"The driving force of this BDS action was another Rights Forum associate, Professor Cees Flinterman, 'the ethical advisor' for investments at the pension fund. A number of years ago he was also involved with the Russell "tribunal" on Palestine which organized a fake criminal trial of Israel. This body also collaborates with the BDS movement. Yet Flinterman hypocritically supported Saudi Arabia entering the UN Commission for Women's Rights.  

Are Christian circles involved?

"In Christian circles, the main anti-Israel force is the Dutch branch of the Kairos-Sabeel movement. This originally Palestinian organization is rooted in Christian replacement theology, claiming that the Christians have substituted the Jews in God's Covenant. In 2017, its chairman Kees Blok, called Zionism 'racism' and compared Palestinian terrorists to Dutch resistance fighters during the Second World War.  

"Arjan El Fassed is a co-founder of the anti-Israel and BDS promoting site, Electronic Intifada. He is a former parliamentarian of the Green Left Party. El Fassed was an advisor to the Dutch development aid organizations, Oxfam Novib and the Protestant ICCO. Both are partly financed by the Dutch government.

And the Dutch government?

"The Advisory Council for International Issues (AIV) is an advisory body of the Dutch government and fully funded by it. Its 2013 report entitled Between Words and Deeds - Perspectives on a Lasting Peace in the Middle East can still be found on the AIV website.  The report is an astonishing collection of fake news and a fake historical review concerning the Arab/Muslim conflict with the Jewish State. It concludes with recommendations for economic and political sanctions against Israel and the establishment of formal contacts with Hamas. Several members of the commission who prepared the report are Rights Forum associates. The government did not accept the AIV's recommendations, but its many lies have not been refuted. Their report is now 'official' background material. 

"Due to its legal status, the Rights Forum should publish an annual report containing financial data. Yet the sources of the organization's income are not known. The Rights Forum Facebook page has also posted antisemitic comments. Some of the most extreme remarks were only removed after CJO, the Dutch Jewish umbrella organization, together with the pro-Israel information center CIDI, complained to the police."  

In conclusion?

Kortenoeven concludes: "In contrast to Germany, France and the United States, the Dutch authorities do not take any action against BDS organizations. The present Dutch government coalition includes one explicitly pro-Israeli party, the Christian Union (CU). Yet it has not been willing to really pressure the government regarding its Israel policy. The attitude of the CU is also puzzling when one considers their powerful position as the junior partner in a coalition with a parliamentary majority of only one seat. Appeals to the party to live up to the pro-Israel paragraphs in its program have been in vain and only resulted in cosmetic actions. 

 "As one of the results, the BDS movement has continued to enjoy implicit political support from the present government. This includes a minister of international cooperation, Sigrid Kaag of D66, who is married to a former Palestinian Authority minister who served under Arafat."