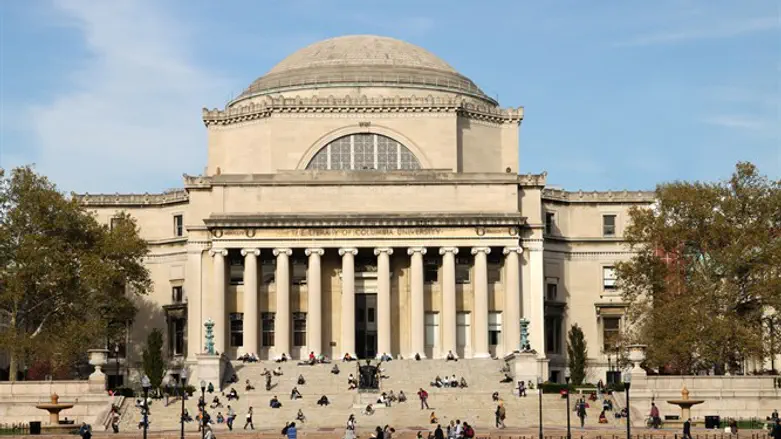 Exposé: Antisemitism at Columbia/Barnard
In a comprehensive research document, Alums for Campus Fairness (ACF), with most sourcing and categorizing methods from AMCHA Initiative, has chronicled the antisemitic incidents transpiring at Columbia University and its sister school, Barnard College, since the 2016-17 academic year. These campuses are arguably the most prominent settings for university-based antisemitism in the United States. This dossier is meant to inform the public and equip members of the media with detailed information to expose the gravity of the situation. 
The disturbing antisemitic climate at Columbia and Barnard is the result of a proliferation of antisemitic incidents, utterances and behavior towards Jewish students, brought below.
Antisemitic Expression - Language, imagery or behavior deemed antisemitic by the guidelines outlined in the U.S. State Department definition of antisemitism. Recent examples include: 
The May 2019 Students for Justice in Palestine (SJP) "die-in" on campus, at which a student speaker read a statement that condoned terrorism, denied Jewish self-determination, and demonized and delegitimized Israel.
The April 2019 "Israeli Apartheid Week," during which SJP erected a mock "apartheid wall" on campus, with one wall panel stating, "End Israeli Apartheid" in large letters and another calling for "return," insinuating the elimination of the only Jewish state. 
The Center for Palestine Studies, which held an event in March 2019 with a title and description that accused Israel of "apartheid."
Targeting Jewish Students and Staff - Incidents that directly target Jewish and Zionist students on campus, or other Jewish members of the campus community, with harmful or hateful action based on their Judaism or perceived support for Israel. Recent examples include: 
SJP's April 2019 statement to the campus community that urged the community to ostracize Zionist and pro-Israel student groups, including Students Supporting Israel (SSI), by asking the campus "to reject racism, reject Zionism."
SJP's February 2019 denigration of Hillel's Birthright Program, including a statement on Valentine's Day that "there's nothing romantic about a propaganda trip on occupied land!"
The November 2018 incident when a Jewish professor's office was vandalized with swastikas and the antisemitic term "Yid" found spray-painted in red in the entryway to the office. 
BDS Activity – Incidents tied to the BDS movement that are antisemitic in intent, content, expression, and effect. Recent examples include: 
The March 2019 proposal on whether to hold a campus-wide referendum on divestment from Israel, which was debated in the Student Council for four hours and ultimately failed in a secret ballot.
The April 2018 Barnard's Student Government Association (SGA) letter urging administrators to divest from eight companies with ties to Israel.
The Columbia University Apartheid Divest's March 2018 event, titled "WTF is BDS?!"
Faculty: The dossier reviews various bigoted and antisemitic statements, publications, and actions from Columbia and Barnard faculty and staff, including: 
Nadia Abu El-Haj, Professor of Anthropology and Co-Director of the Center for Palestine Studies, who has published a book implying that Israeli archaeologists falsified evidence to prove the existence of Israelites in the area.
Gil Andijar, Professor of Middle Eastern, South Asian, and African Studies, who has said that "Israel is absolutely a colonial enterprise, a colonial settler state, to be precise."
Partha Chatterjee, Professor of Middle Eastern, South Asian and African Studies, who has claimed that Israel treats its Arab citizens "as lowly barbarians."
Hamid Dabashi, Professor of Iranian Studies and Comparative Literature, who has repeatedly compared Israel to ISIS; he has also posted on Facebook that for "every dirty treacherous ugly and pernicious act happening in the world," the "ugly name of 'Israel' will pop up as a key actor in the atrocities."
Katherine Franke, Sulzbacher Professor of Law, Gender, and Sexuality Studies, who has lamented feeling "as if I teach at the New York franchise of Hebrew University Law School."
Gil Hochberg, Ransford Professor of Hebrew and Comparative Literature, who has described the establishment of Israel as "coordinated Zionist attacks on Palestinian villages aimed at Judaizing strategic parts of the country."
Rashid Khalidi, Edward Said Professor of Modern Arab Studies, who has been identified as "a PLO spokesman."
Mahmood Mamdani, Herbert Lehman Professor of Government, who has compared Israel to "settler America" and Palestinians to Native Americans.
Joseph Massad, Professor of Modern Arab Politics and Intellectual History, who has accused Jewish Zionists of complicity in the creation of anti-Semitism and the Holocaust.
George Saliba, Professor of Arabic and Islamic Science, the subject of a months-long investigation following accusations of anti-Semitism made by Jewish Columbia students.
Michael Taussig, Professor of Anthropology, who has promoted a claim that Israel trains wild boars and gazelles to destroy Palestinian farmers' crops.
For the complete report, click here.
Avi D. Gordon is Executive Director of Alums for Campus Fairness, America's unified alumni voice on issues of antisemitism, demonization of Israel, and bigotry. A graduate of Binghamton  U, majoring in Judaic Studies and minoring in International Studies, he previously held director positions at StandWithUs as the East Coast Campus Director and the Emerson Fellowship Director; at AEPi—the international Jewish Fraternity—as the Director of Israel Engagement; and most recently as AJC New York's Associate Director.