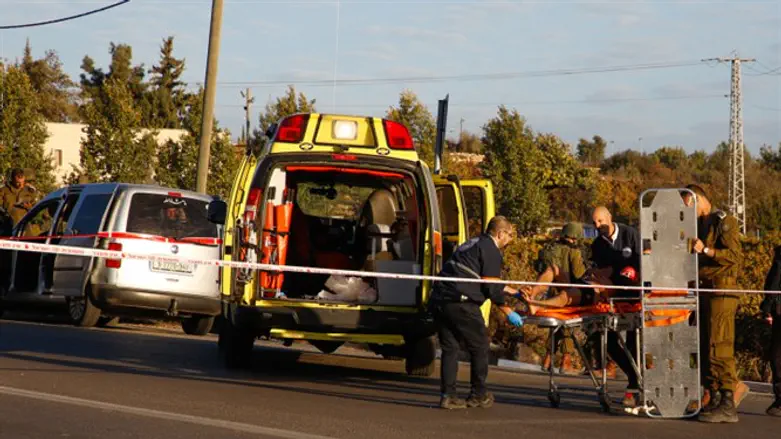 Who says that crime does not pay?
Nahum Nevies, 17, from Elazar,  now fights for his life. His sister, Noam, 19, is in moderate condition, but has a long, painful road ahead to recovery . The siblings are from  Elazar in Gush Etzion. Nahum and Noam were rammed on Friday by a speeding car which plowed right into them at the Elazar bus stop. The vehicle was driven by Alaa Harimi, 26, of Bethlehem ,who was then shot and killed by an off-duty policeman.
This morning, Israel Resource News Agency dispatched a reporter to Harimi's house, which was not hard to find. 
Celebrations and firecrackers have been wildly going off near the home of the car rammer since Friday's attemped homicide. 

Celebrations and firecrackers have been wildly going off near the home of the car rammer since Friday's attemped homicide. 

When our reporter approached the Harimi home, the dead driver's family had only one queston "How is the boy that Harimi ran over?" 

That concern was a surprising to hear. 

Our reporter found out what the Harimi family was really asking . 

The Harimi family wanted to know if their son had accomplished the proverbial coup de grace and whether he had actually put this young Jew to death?

Simply put: If Nahum succumbs, G-d forbid, the Harimi family will be honored with cash for life from the Palestinian Authority, and honor would be bestowed upon the family. 

After all, Micah Avni, whose father was cut to bits by an Arab on bus 78 in Jerusalem a few years back, has been able to ascertain that the family of the man who murdered his father has been awarded upwards of two million dollars for the honor of commiting his father's murder

Only four years ago, the man whom we rely upon for terror research,  Lt. Col. (ret.) Jonathan D. Halevi, discovered and translated the official ordinance of the Palestinian Authority which provides an automatic payment to anyone who murders a Jew, and that includes a payment to his family for life.

This official Palestine Liberation Organization incentive for murder has been incorporated into a series of working papers on the subject of incentifying murder, published by the Jerusalem Center for Public Affairs, and accessible at http://jcpa.org/the-2018-report-on-palestinian-authority-payments-of-salaries-to-terrorists-in-2018/

How do Jews around the world  react to the payment incorporated into the Palestinian Authority rule of law which provides automatic payment to anyone who murders a Jew?

It is hard to tell. So we posed a question to Rabbi Rick Jacobs, head of the largest Jewish denomination - the Union for Reform Judaism

We  have asked Rabbi Jacobs , who passionately supports the establishment of a PLO state, for his response to the fact that the PLO, through is PA administrative arm, awards anyone who will murder a Jew.

Rabbi Jacobs will not answer the question, which we have posed to him more than once. 

Israel has a responsibility to do everything it can to rid itself of the PLO , which places the murder of any Jew.as the highest value for a Palestinian Arab to strive for. Israel can now define anyone who supports the PLO state as an accessory to murder.

(Full disclosure: My close friend and editor, Rochel Sylvetsky, is the grandmother pf Nahum and Noam Nevies. May they have a refuah shleima.)