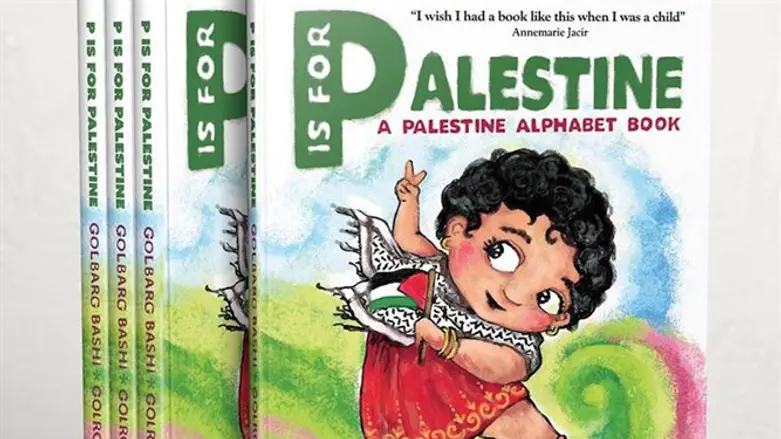 Don't let the antisemites get away with it, speak up and be heard
This is my story and you can draw a lesson from it:
The public library in Highland Park, N.J. cancelled a scheduled hearing on whether to hold a public reading of the children's book "P is for Palestine," over concerns about citizen safety and crowd control.
The decision to cancel the meeting was made in consultation with the city's mayor and police chief, the library said in a cancellation notice on its website. A petition was circulated by the following to support "P is for Palestine." 
"We call on the Highland Park Public Library to rise up for what is right, reject this racist attack on free speech, and immediately reinstate the planned "P is for Palestine: A Palestine Alphabet Book" event with author Dr. Golbarg Bashi.. The sponsor orgs are: Al-Awda NY: The Palestine Right to Return Coalition, American Muslims for Palestine – NJ, Council on American-Islamic Relations – NJ, Occupy Bergen County, Jews for Palestinian Right of Return, Labor for Palestine, People's Organization for Progress, Samidoun: Palestinian Prisoner Solidarity Network, SOMA for Palestine, USACBI: US Campaign for the Academic and Cultural Boycott of Israel."
I speak only for myself but I intend to attend the book reading whenever it is scheduled and take notes which will prove how anti-Semitic this book is. No one can stop me.  The groups listed above have not gained a victory, I will see to that. I felt the meeting of the Board of Trustees was a waste of time since the outcome seemed obvious. The township and the library were afraid of a lawsuit and the verdict would be to schedule a date for the reading of the book.  
The book is replete with lies and false information that children do not know enough to question. The book does not mention the existence of the state of Israel. It also says, for example, that 'intifada' means rising up for what is right, whether you are a kid or a grown up. The intifada was not a rising up for what is right. It was a mass descent into immorality in an attempt to destroy the state of Israel in which over a thousand innocent Jewish civilians were murdered by suicide bombers who blew themselves up on buses and set off nail-filled explosives in restaurants, hotels and other public places.
And it started after peace accords were signed. To bring such a message to Highland Park, where many Jews reside including Holocaust survivors and many whose children and grandchildren live in Israel, is a disgrace.
No one is seeking for the book to be banned.
We have to make it clear that we aren't seeking that the book be banned or that a different perspective not be heard — simply that a book which presents a term understood to mean massacre of Jews to children as a 'moral' or 'positive' concept constitutes the insidious presentation of hate speech.
 JVP, the misnamed anti-Zionist  JEWISH VOICE FOR PEACE,  purposely set up the book reading in a religious Jewish community.
They knew there would be backlash from which they could then push a narrative of victimhood. JVP is a radical organization that believes in appeasement of those who wish to destroy Israel and the Jewish people.
As a Jew and Rabbi, son of Holocaust survivors, I state that we in Highland Park, New Jersey, will speak out with vigor and let the entire world know we are a brave and courageous community and will never tolerate anti-Semitism. I expect you to do the same in yours.
Rabbi Dr. Bernhard H. Rosenberg is Rabbi Emeritus of Congregation Beth-El, Edison, New Jersey. He received his ordination and Doctorate of Education from Yeshiva University in New York and taught at Rutgers University in New Jersey and Yeshiva University in New York. Rabbi Rosenberg's book, "Theological and Halachic Reflections on the Holocaust" is now in its second printing. He is the author of "A Guide for the Jewish Mourner," "Contemplating the Holocaust," "What the Holocaust Means to Me: Teenagers Speak Out," "Thoughts on the Holocaust-Where Was God Where Was Man–Teenagers Reflect on Major Themes of the Holocaust , "The Holocaust as seen Through Film,"  "Public Speaking – A Guide for Study", ECHOES OF THE HOLOCASUST, GENESIS OF THE PALESTINIAN AUTHORITY,  and his latest book is " ROSENBERG ENGLISH HOLOCAUST HAGGADAH FOR PASSOVER.He  received the Dr. Martin Luther King Jr Humanitarian Award and the Chaplain of the Year Award from The New York Board of Rabbis for his efforts during and following 9-ll. He appears frequently on radio and TV and has published hundreds of articles regarding the Holocaust, serves on the New Jersey State Holocaust Commission and is the Chairman of the Holocaust Commission of the New York Board of Rabbis.