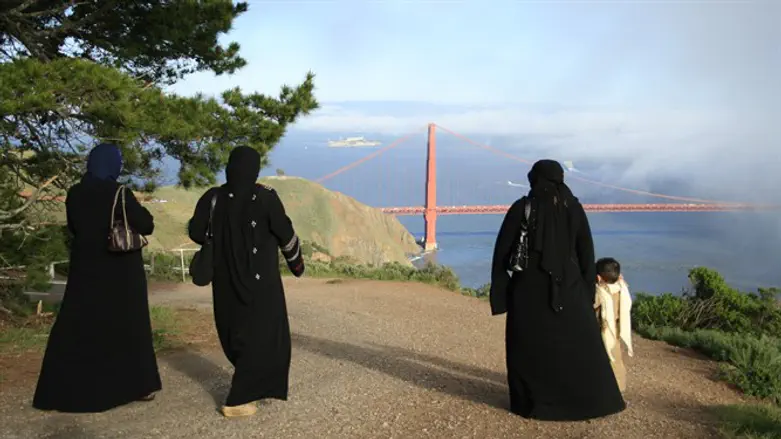 Democratic candidate opens the door to Congress for Hamas
It's amazing what one can learn by translating what Palestinian irredentists say in Arabic on the Internet and how that compares with English translations. Sadly, too few Americans are inclined to make the effort to find out. I am going to try to help that a bit here.
Not long go I wrote an expose' on Ammar Campa-Najjar (not his real name), a 29 year-old Palestinian-American who is running for Congress in California's 50th Congressional District.
Ammar's grandfather was one of the terrorists who staged the attack at the Munich Olympics in 1972 where Black September Palestinian terrorists murdered eleven Israeli athletes, even castrating some of them, as well as a German policeman. Ammar's grandfather was killed a year later by Israeli commandos in Beirut. Ammar was spared by the Israelis because he was considered too young.
The grandfather, according to a Fatah website, was involved in a botched attempt to assassinate then Israeli Prime Minister Golda Meir due to an equipment failure before the Israelis caught up with him in Beirut. This information has only just come to light now after all these years and can be read about here:
On his Facebook page, the son of Martyr Abu Yousef al-Najjar (Ammar Najjar's father) wrote some details of his father's attempt to assassinate former Israeli prime Minister Golda Meir:
"Ambassador Yasser Mohamed Yusuf al-Najjar attached photographs of passports and travel cards to his father and said in details of the assassination attempt on Meir: 'The attempt was made when Golda Meir visited Rome in mid-January 1973, when a group of Black September militants went to a place near the airstrip. They were smuggled into a neighboring country and were supposed to be launched on the Golda plane on the landing, but did not leave because of a technical malfunction, the operation was revealed the following day and the guerrillas withdrew from Italy. "
"As for his travel documents, he said: 'Abu Yousef al-Najjar was a permanent movement, looking for a door that was not opened for the Palestinian revolution. And sometimes in the effect of hunting what time of full engagement with occupation and where the hands of Fatah movement. His last hunting attempt was to assassinate Golda Meir at Rome airport two months before his martyrdom. The operation failed due to a technical error [of the airplane].
'In his travels and movements, God's mercy, he used many passports and different names. A country he enters as an Iraqi and exits an Algerian, or rides a Jordanian plane and then lands a few hours as a Libyan merchant. He was not afraid of anything nor fearful, all his concerns and dreams are confined to his homeland and to progress in the commando and political work together and develop the capabilities of Palestinian youth."
According to another PLO website, translated to English, in a report hitherto now scrubbed from the Web, but picked up by NPR, Ammar's father, adopted by the King of Morocco, made his way as an adult to the San Diego area in the US where he married a Mexican-American woman named Campa. Today's congressional candidate Ammar al-Najjah, renamed Ammar Campa-Najjah for the campaign, was born to the couple.
Ammar's father was known in Fatah circles as "The Carpenter", the meaning of his last name in Arabic. The al-Najjah clan, or carpenters are all over Gaza today actively involved with Hamas and Palestinian Islamic Jihad and have been involved in many terrorist attacks and missile launches against Israel to this day.
For an eye-opener on the entire al-Najjah clan, follow this link:
Ammar Campa-Najjar would have us believe he rejects his family's business, murdering Jews. But does he? He still talks of "the occupation" in Gaza, but Gaza is not occupied by Jews or Israelis.  In fact, Israel deported all of its Jews and population from Gaza in 2005. When candidate Ammar Campa Najjar talks about "occupation" he means all of Israel where Jews live and are not subservient to Arabs and Muslims.
Ammar Yasser al-Najjar was born in the US and began attending Islamic school in the San Diego area. It's unclear if Najjar was partly named after the Father-of- All- Terrorism Yasser Arafat (more than one of his family including his dead grandfather were also named Yasser and all considered Arafat a hero). His father followed Arafat back to Gaza as one of his lieutenants in Gaza during Oslo.
Ammar, who held a low-level public relations job in the Obama White House and had no political experience, was suddenly thrust into the spotlight of the congressional campaign when his Republican opponent was accused of misusing campaign funds (that is still unproven). Two of Ammar's opponents in the winner-take-all primary in California, one a Democrat, were ex-Navy SEALS who served in Afghanistan, but the Democratic Central Committee devoid of shame, has been more interested in throwing support behind the scion of an Arab terrorist. This young man, with no political experience out-fundraised two US Navy Seals running for the same office in a heavily populated military district in San Diego.
Ammar, according to a Fatah website, changed his middle name to his mother's maiden last name, but not before he began to have campaign buttons made that falsely listed his last name as Campa. In a letter of advice on a Fatah website, his father advised him that the district he decided to run in for Congress was 35% Hispanic as opposed to only 15% Arab. Ammar did another change of name to Ammar Campa-Najjar after consulting with his father after filing Federal Election papers.
Ammar's father came and visited Ammar in the US even though he still belonged to Fatah , the PLO foreign terrorist wing: His father entered as a diplomat, which must have been easy given his usage of multiple passports for years.
One quote from an Arabic Fatah website, translated,  stated, "Ammar Najjar is the Arab candidate in the U.S. Congress: "The child Ammar Najjar survived the death miraculously while continuing to aid the war effort in Gaza and after the end of the war, he left with his father Ambassador Yasser Najjar and toured with him on a journey like Sinbad around the world but Ammar decided not to live in the tumult of his father and decided to be what he wants in this world and a wire in the way of diplomatic work early." 
"[Ho took a] ship to the United States of America and by virtue of this journey learned Spanish and English and who were the keys for him to tell the world the story of brutal aggression against the Palestinian people is a high-class political son who learned the origins of diplomatic art which helped him very much in drawing the real picture For the barbarism and tyranny of the arrogant brute occupation, and today Ammar al-Najjar blew a big surprise when he decided to run for the U.S. Congress to enter the world of politics from the widest doors and to your hand Imperial fortresses, if successful, he will record a unique situation in resisting imperialism from its home., …the revolution is not only a revolutionary rifle but also a painter feather and a pen writer and a successful politician and as he said the symbol of the future: we are with them and long time and mountain no wind will shake you God 
"The people of the mighty are making of silkworm the thread of hope in survival and existence, I wish success to the cousin Ammar Yasser Najjar in the elections of the U.S. Congress to shout their face record I am an Arab register I am Palestinian...       
Ammar claims in the U.S. he does not condone what his grandfather did at Munich and says he never met the man. Yet when asked about the Middle East today, he tries to show equivalency between Palestinian terrorists and the U.S. ally, Israel. The fact is Ammar's entire family and clan are known members of Hamas. On one Hamas website in Arabic are listed the names of 39 Al-Najjars killed by the IDF in the last war that resulted from missiles being fired on Israeli civilian targets. Each man in Arabic is listed as a "martyr" and to click on the name/brown box emits a history of the that Najjar's terrorist acts on behalf of Hamas:
These were members of the military wing of Hamas, the murderous Izz al-Din al-Qassam Brigades.
They are all dead, and if you click on a name, you see a page that tells their life story, with pictures and videos in some cases.
When I looked, I was only interested in the 2014 (Protective Edge) Israeli operation in Gaza and then I added a few more current, post 2014, photos.
There are at the present, most likely, quite a few Najjars who are "Qasamis" today - the term "qasami" comes from al-Qassam Brigades, it's a term of endearment.
There are many more members of the al-Najjar family perpetuating continuous war in Gaza. Ammar says he only wants "peace" between Israelis and Palestinians, but all his comments descend into condemnations of an imaginary "occupation" that does not exist.
Campa-Najjar has recounted the alleged suffering he went through in Gaza from age 9 to 13 when he lived there with his parents, how Apache helicopters from the United States supposedly caused killing of his brethren. Then he would have listeners believe he suffered at the hands of Israel and U.S. "I didn't shed a tear for the 3,000 victims on 9/11," he says.
These statements were not readily available to the average voter back in San Diego, but were viewable only on Arab websites.
In order for there to be peace he says both sides must make "hard choices" and implies equal culpability for the dispute between the Israelis and Palestinians. He says he doesn't condone what his grandfather did but he wants to promote peace. During just the last two weeks since this article was written, over 200 rockets were fired into Israel schools, homes and day care centers and innumerable fires were start with drones sent aloft by Gazans like the al Najjars. One would expect Najjar to verbally oppose such activities as they are happening but he doesn't criticize them at all, instead invoking false equivalency with an imaginary "occupation."
If he gets into Congress, Ammar Campa-Najjar can get on committees where US National security is at stake. 
The worst threat is his appearance in Clifton, New Jersey. When he appeared there before a Palestinian social club, he asked them for campaign money - and was given funds. Why is a resident in San Diego's 50th congressional district soliciting donation in Clifton, New Jersey? The answer is lso available on Arab websites. Clifton has a sizeable Palestinian community. In fact one street in the city is named Hamas street.
Ammar met at the Center of the Palestinian Community with a number of members of the Council of the Center and some activists from the Arab community in Clifton, like CAIR (Congress has already declared CAIR a Hamas front group)and Clifton Arabs for America. He explained his programs and interests in the topics of medical care for all, and calling for the establishment of infrastructure projects and programs of clean energy, social bromides that appeal to Democratic voters who aren't aware of the sources for terrorism.
As for the chances of his success in reaching the US Congress, Ammar said that although the region he ran for is dominated by the Republicans, his chances are great and reflected in his campaign for the first place in fundraising, ahead of his Republican rival, as reflected in the number of institutions and institutions which it officially supports.
Then comes the kicker:  "As for the role of the community center in his support," he said, "If you are unable to work in the campaign as a result of the distance (New Jersey to San Diego), I am the one who hopes to serve you when you win."  This gathered the attendees on the need to support young Ammar and work to support his campaign financially through his website. They dub him the "handsome Boy" but what he really is, is the "Handsome pro-Hamas boy".
Voters need to keep him out of Congress for the sake of national security.