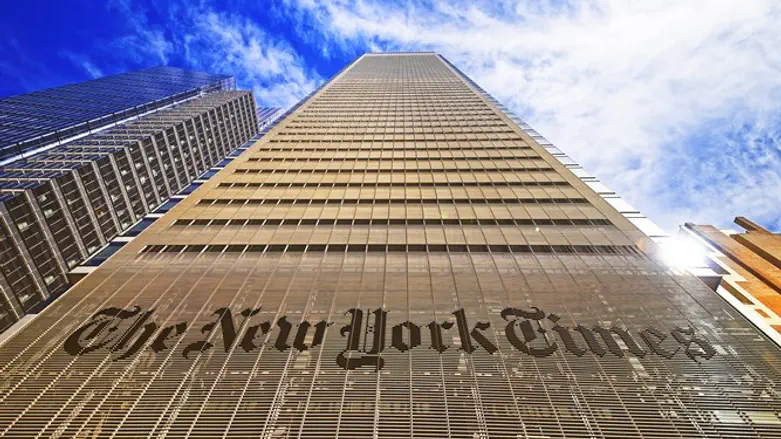 NY Times to critics – shut up
She had two strikes against her. One – she criticized The New York Times first for publishing an op-ed written by imprisoned terrorist Marwan Barghouti, and then for neglecting to mention his crimes – at least 26 Israelis murdered from his work as an unrepentant jihadist.  
Two – she complained that the paper's constant pummeling of President Donald Trump was overly aggressive and had crossed "over the line." 
She wrote that there ought to be consequences for such un-journalistic behavior.
Instead – she became the consequence. 
Her name is Liz Spayd and for 11 months she served as the paper's "public editor," which translates as house watchdog, or reader's representative.
So what was her reward for being our representative, demanding, as we do, truthful journalism? 
She got fired. This happened a few days ago to the girl who must have been snubbed in the hallways and left to sit alone in the cafeteria. 
So they hired her to monitor the paper's integrity…and they fired her for doing her job.  
Let that be a lesson to anyone in the building who even THINKS about speaking his, or her, mind. 
Spayd's firing means that the Times won't even pretend to be a fair-minded mirror of our times.

Speak up, and you're done. That goes for every newsroom that uses the Times as its oracle. They follow the leader.

Objective reporting? 

These days every headline must conform to OMG proportions for anything related to Trump…and Israel, always. 

The paper has been shameless and quite ridiculous in its attempt to smear Trump as a fellow-traveler to the Russians. It's done by rumor, gossip, whispers, innuendo, hearsay and unsubstantiated accusation. Those are Red Scare tactics that were used by HUAC and McCarthyism to ruin people. It's how Inquisitions are done.

Spayd's firing means that the Times won't even pretend to be a fair-minded mirror of our times.

Even as it calls itself the paper of record and serves as the template for the rest of the news media, it's a paper intended entirely for radical leftists.

They love it when the paper goes after Trump and the Jews, and it was probably the left that made Arthur Sulzberger Jr. get rid of her.

Sulzberger says there is no longer a need for an ombudsman. The paper can be trusted to serve as its own judge. Liberals cheered. They too know what's best. 

They complained that Spayd was "controversial" – and what is controversial to them? 

Anyone who departs from the gospel according to Tom Friedman and Paul Krugman is a danger.

Liz Spayd's firing is the latest evidence that Big Brother still wants us under heel.

So if a single lonely voice is silenced because it demurs from what is official policy – how is the Times of today any different from the Pravda of yesterday?

No dissent then and there; no dissent permitted here and now. 

Which means that so far as getting news that is trustworthy and reliable, we are not in America anymore. We are back in the USSR.

New York-based bestselling American novelist Jack Engelhard writes regularly for Arutz Sheva. His books, including "The Bathsheba Deadline," are available from Amazon and other retailers. Engelhard wrote the international bestseller "Indecent Proposal" and the award-winning Montreal memoir "Escape from Mount Moriah." His latest is "News Anchor Sweetheart." He is the recipient of the Ben Hecht Award for Literary Excellence. Website: www.jackengelhard.com