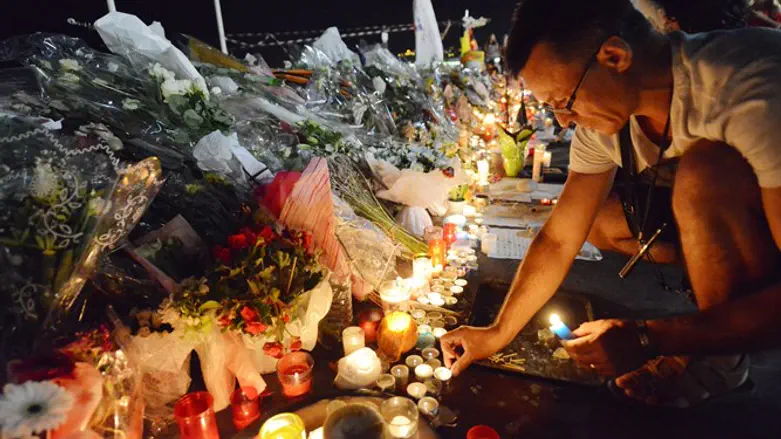 French Jews are the canary in Europe's coal mine
On October 17, 1943 Alois Brunner, SS captain, arrived in Nice with his staff and chose the Hotel Excelsior as a logistics base.
This opened the most tragic page in the history of the French Riviera: the deportation of French Jews to the Nazi death camps. Every three days,  a cattle car in which 100 Jews were stored was hooked up to the Nice-Paris train.
This is how the south of France was made "jüdenrein" (empty of Jews). 
The Jews of Nice do not want to end up back on the trains again.  And a few days after The ISIs massacre that killed 84 people on the Promenade des Anglais, 200 French Jews, including many from the French Riviera, landed in Israel, to never return in France.
"There is no future for Jews in France because of the Arabs, and because of an anti-Israeli position in society," said the president of the Jewish Agency, Natan Sharansky from Paris.
Over the past two years, about 15,000 French Jews have immigrated to Israel. In ten years, 10 percent of the Jews of France have left the country. It is a demographic earthquake. The Nice attack was not a surprise to the 20,000 Jews in the city, who for years have been the target of anti-Semitic attacks and violence by the Islamic community. 
"The only Jews that you see around with a kippah are foreign tourists", said Chalom Yaich, a member of the Jewish community in the city. Nice has at least 60,000 Muslims, 17 percent of the city's population, compared with a national average of 8 per cent of the population. 
The Jews are like the canary in the coal mine. Canaries who die indicate the presence of harmful gases to the miners. If the Jews constitute just 1 percent of the French population, half of the attacks for ideological and religious hatred in France are today directed against them. 
Too many Jewish canaries have been killed in these last years. But European miners, too busy stirring up shameful lies against Israel and trying to please Islam, did not pay enough attention. And now they pay the highest price.