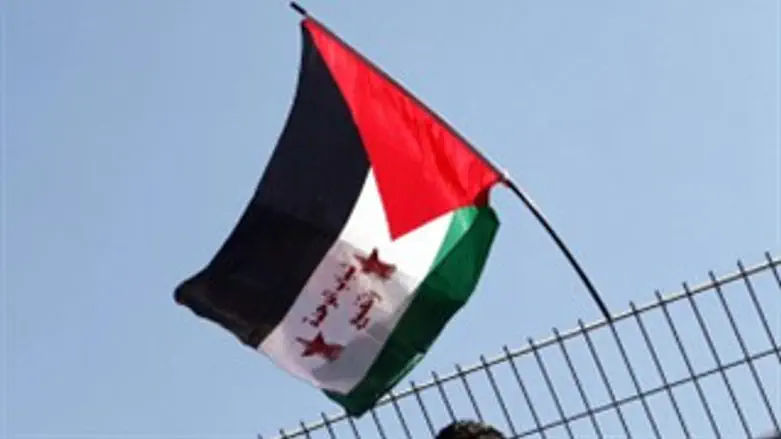 Islam is Colonialism, 'Palestine' is Colonialism
At Israeli Apartheid Week, campus haters claim to be fighting "colonialism" by fighting Jews. Columbia University's Center for 'Palestine' Studies, dedicated to a country that doesn't exist and which has produced nothing worth studying except terrorism, features diatribes such as 'Palestine' Re-Covered: Reading a Settler Colonial Landscape". This word salad is a toxic stew of historical revisionism being used to justify the Muslim settler colonization of the indigenous Jewish population.

You can't colonize 'Palestine' because you can't colonize colonizers. The Muslim population in Israel is a foreign colonist population. The indigenous Jewish population can resettle its own country, but it can't colonize it.

Muslims invaded, conquered and settled Israel. They forced their language and laws on the population. That's the definition of colonialism. You can't colonize and then complain that you're being colonized when the natives take back the power that you stole from them.

There are Muslims in Israel for the same reason that there are Muslims in India. They are the remnants of a Muslim colonial regime that displaced and oppressed the indigenous non-Muslim population.

There are no serious historical arguments to be made against any of this. 

The Muslim conquests and invasions are well-documented. The Muslim settlements fit every historical template of colonialism complete with importing a foreign population and social system that was imposed on the native population. Until they began losing wars to the indigenous Jewish population, the Muslim settlers were not ashamed of their colonial past, they gloried in it. Their historical legacy was based on seizing indigenous sites, appropriating them and renaming them after the new conquerors.

The only reason there's a debate about the Temple Mount is because Caliph Omar conquered Jerusalem and ordered a mosque built on a holy Jewish site. The only reason there's a debate about East Jerusalem is because invading Muslim armies seized half the city in 1948, bombed synagogues and ethnically cleansed the Jewish population to achieve an artificial Muslim settler majority.


You can't switch from being the indigenous population to being its conquerors whenever it suits your pseudo-historical narrative. You can't claim to be the Philistines, the Jews and their Islamic conquerors at the same time.

The only Muslim claim to Jerusalem or to any other part of Israel is based purely on the enterprise of colonial violence. There is no Muslim claim to Israel based on anything other than colonialism, invasion and settlement.

Israel is littered with Omar mosques, including one built in the courtyard of the Church of the Holy Sepulchre, because Islam is a colonial entity whose mosques testify to their invasive origins by celebrating colonialism as their true religion. The faith of Islam is the sworn religion of the sword.

Islam is a religion of colonialism that spread through invasion, settlement and conquest. Its caliphs, from the original invaders, including Omar, to the current Caliph of ISIS, wielded and wield religious authority in the service of the Islamic colonial enterprise. 

Allah is the patron deity of colonialism. Jihad is just colonialism in Arabic. Islamic theology is nothing but the manifest destiny of the Muslim conquest of the world, colonial settler enterprises dressed up in the filmy trappings of religion appropriated from the culture of conquered Jewish and Christian minorities. Muslim terrorism is a reactionary colonial response to the liberation movements of the indigenous Jewish population. 

Even "Allahu Akbar" did not originate as a religious sentiment. It does not mean "God is Great", as it is often mistranslated. It was Mohammed's taunt to the Jews he was ethnically cleansing. His purge of a minority group proved that "Allah was Greater". Islamic colonialism is used to demonstrate the existence of Allah. And the best way to worship Allah is through the colonialism of the Jihad.

Islam would not have existed without colonialism. It still can't exist without it. That is why the violence continues. The only way to end the violence is for Muslims to reject their theology of colonialism.

But instead of taking ownership of their real history, the Muslim settler population evades its guilt through propaganda by claiming to be the victims of colonialism by the indigenous Jewish population. This twisted historical revisionism is backed by bizarre nonsense such as claiming that Jesus was a Palestinian or that the Arabs are descended from the Philistines. The Muslim settlers insist on continuing to celebrate colonialism while claiming to be an indigenous population that was always living in Israel. 

You can have one or the other. You can have your mosques celebrating the conquest and suppression of the indigenous population or your claims of being the indigenous population. But you can't switch from being the indigenous population to being its conquerors whenever it suits your pseudo-historical narrative. You can't claim to be the Philistines, the Jews and their Islamic conquerors at the same time.

From its Roman origins, 'Palestine' has always been a colonial fantasy of remaking Israel by erasing its original Jewish identity. The Arab mercenaries who were deployed by the Romans in that original colonial enterprise continued it by becoming self-employed conquerors for their own colonial empire. The name 'Palestine' remains a linguistic settlement for reimagining a country without a people and a past as a blank slate on which the colonial identity of the invaders can be written anew. That is still the role that the 'Palestine' myth and mythology serves. 

Abdul Rahim al-Shaikh complains about "linguistic colonialism". When Muslims rename the Spring of Elisha, a Jewish biblical figure, Ein as-Sultan in honor of an Islamic colonial ruler, that's linguistic colonialism. When Jews restore the original indigenous names that Jewish sites held before Muslim colonialism, that's not colonization. It's the exact opposite. It's decolonization. 

Promoting mythical claims of a 'Palestinian state' isn't decolonization, it's colonization. Or recolonization. Advocates for 'Palestine' are not fighting colonialism, but promoting it. They are advocating for a discredited Muslim settler fantasy and against the indigenous Jewish population of Israel.

Abdul Rahim al-Shaikh complains about "geographic amnesia" among "Palestinians". There's no geographic amnesia because you can't remember what never existed. There's only paramnesia because there was never a country named ''Palestine''. 

''Palestine'' has no history. It has no people. It has no borders. It has never been anything except a colonial invention. It is a name used by a variety of foreign settlers operating on behalf of colonial empires. 

You can't colonize ''Palestine''. How can you colonize a colonial myth? You can only decolonize it. 

Every Jewish home built on land formerly under the control of the Caliphs is decolonization and decaliphization.

When Jews ascend the Temple Mount, they are also engaging in decolonization and decaliphization.

When the liberation forces of the Jewish indigenous population shoot a Jihadist colonist fighting to impose yet another Islamic State on Israel, that too is decolonization and decaliphization. 

Resistance to Islamic terrorism is resistance to colonialism. And Jews have the longest history of resisting the Islamic State under its various Caliphs throughout history. Israel is still resisting the colonialist Jihadist plans for the restorations of the Caliphate.

Zionism is a machine that kills Islamic colonialism.

The existence of Israel not only means the decolonization of Abdul Rahim al-Shaikh's imaginary colonial fantasies of "'Palestine'", but inspires resistance in peoples struggling against Islamic colonialism throughout the region, from the Copts to the Berbers to secular intellectuals fighting for freedom.

Islamic colonialism has always been defeated, whether at the Gates of Vienna or in the Sinai Desert. Its colonial fantasies are false and will be defeated as many times as it takes, whether in the form of 'Palestine' or ISIS.

The writer blogs at sultanknish.blogspot.

0

- See more at: http://sultanknish.blogspot.co.il/#sthash.RkIzinmS.dpuf