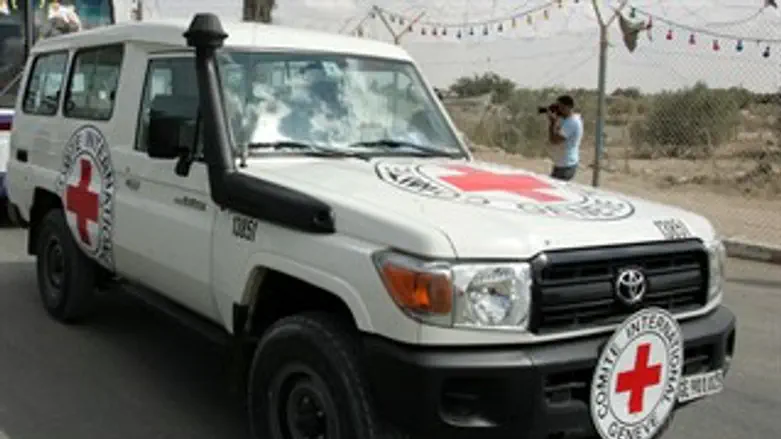 The Europeans in Gaza who Fight Alongside Hamas
10 Gaza hospitals were used by Hamas during Operation Cast Lead to shelter weapons and terrorists.

Doctor Erik Fosse arrived in Gaza last week with an Israeli visa. Along with Doctor Maids Gilbert, he has become the benign face of the last Hamas war against the Jewish State.
These doctors are not humanitarians, but warriors, fighters and militants. They stand with Hamas in the Gazan Shifa hospital with the complicity of Norway's institutions and the European Union, knowing that Hamas leaders and weapons are hidden in a bunker under the hospital.
Last year, the Royal Norwegian Order of St. Olav, which bestowed an award to individuals as a reward for "remarkable accomplishments on behalf of the country and humanity", awarded it to  Fosse.
During the Cast Lead Operation, Hamas Prime Minister Ismail Haniyeh and other Hamas terrorists took over an entire ward of Fosse's hospital during the war in order to stay safe. 10 Gaza hospitals were used by Hamas during Operation Cast Lead to shelter weapons and terrorists.
During that war, Fosse was one of the global faces of Hamas propaganda. He was the darling of Western reporters. And now he is again in Gaza to provide the terrorists with a shelter.
Fosse is the author of a book, "Eyes in Gaza", which received a recommendation from former Prime Minister Kare Willoch. In the book, Fosse claims that Israel went into Gaza to kill women and children. A classic blood libel. The book charges Israel of being a "merciless slaughterer of women and children" and portrays Israelis as heartless "monsters".
Over the last week, Doctor Gilbert has become an unofficial spokesman for Hamas, releasing interviews in which he accused Israel of "deliberately" targeting civilians, "particularly women and children".
Gilbert openly supports terrorism. A few days after the Arab terrorist attacks of September 11, 2001, Gilbert gave an interview to the Norwegian daily Dagbladet in which he stated, "The oppressed also have a moral right to attack the USA with any weapon they can come up with".
Fosse and Gilbert charged Israel of firing "experimental weapons" in Gaza. Another blood libel.
According to the same sick anti-Semitic "logic", when Israel was excluded from the International Red Cross for half a century because of the Star of David, Cornelio Sommaruga, then-head of the International Committee of the Red Cross, answered questions about having denied entry to the Jewish state by saying: "If we're going to have the Star of David, why would we not have to accept the Swastika?".
Fosse, Gilbert and all the other European "humanitarians" are not exemplary doctors who dedicate their lives to help humanity. They are not the heirs of Albert Schweitzer who funded a hospital in Lambarenè. They remind me of Heinrich Willerman, Hans Eisele and Aribert Heim, three Nazi doctors who made atrocious experiments on the Jews and found shelter in the Arab-Islamic regimes.
Like Fosse and Gilbert, they were anti-Semitic executioners in white coats, like the doctors of the Red Cross, who visited Theresienstadt during WWII and reported that Jews were treated well. Now the same organization demonizes the Jews defending themselves in Gaza.