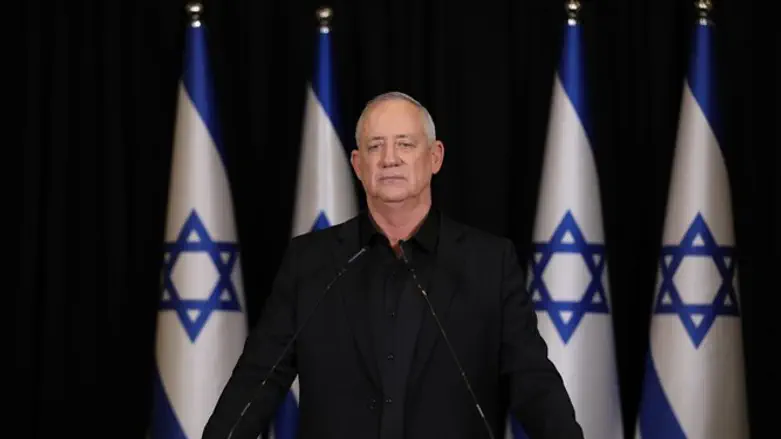 DM Benny Gantz
Elad Malka
Following the contreversial ruling of the International Criminal Court (ICC), Israeli Defense Minister Benny Gantz, on Saturday issued a letter to IDF Chief of Staff, MOD Director General, and senior Israeli security officials, articulating a clear position for the defense establishment.
"The ruling by the ICC's judges is a poor one and lacks any basis in international law," Gantz wrote. "The ICC lacks the authority to hold these proceedings, which are outrageous and designed simply to serve Israel's detractors, who are looking for ways to do it damage by exploiting international institutions."
"The ICC was never meant to undermine the efforts of democratic states fighting terrorism and protecting their people," he added. "The State of Israel is forced to contend with complex security threats and complicated challenges, which aren't going anywhere."
"The IDF and entire Israeli defense establishment," Gantz emphasized, "will continue to protect the country and its citizens, with determination and professionalism, while upholding both our moral standards as a country, and as a military, as well as international law. The State of Israel has a high-caliber, professional and independent justice system, which includes professional and effective mechanisms for inquiry, investigation and judicial proceedings, and they do their work well."
"The State of Israel is prepared for any potential implication of this flawed, political and biased decision," Gantz concluded. "The defense establishment, and all of Israel's institutional bodies, will continue to resolutely prevent any harm to IDF commanders or soldiers or the defense establishment at large. This is a complicated and challenging time for Israeli security. I have full faith that the defense establishment will continue to stand firm against any threats, near or far. I offer my support and request that you pass this message along to all of the people under your command."