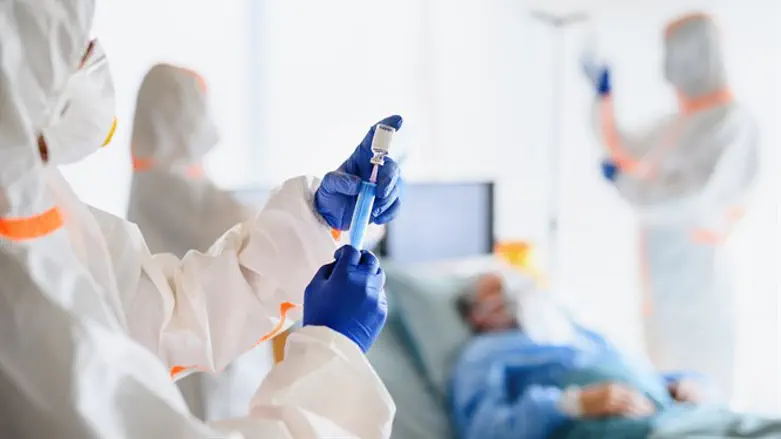 Coronavirus
iStock
Israel's Health Ministry has scrubbed its coronavirus information page of all data regarding the status of coronavirus hospital wards across the country, following an exposé which found the Ministry's statistics had massively inflated the number of patients at a number of hospitals.
On Tuesday, the Ministry of Health's coronavirus data dashboard site was scrubbed of all information regarding how full hospital coronavirus wards are, replacing the figures for each hospital with "Unknown".
A day earlier, Channel 12 had reported that a number of the figures provided on the Health Ministry's coronavirus data dashboard contradicted reports from the hospitals themselves.
While Sheba Medical Center in Ramat Gan reported that it's coronavirus ward is at 52% capacity, the Health Ministry's site claimed it was filled to beyond capacity, at 120%.
The Health Ministry similarly claimed that Jerusalem's Shaare Zedek Hospital's coronavirus ward is at 130% capacity, as is the coronavirus ward of Hadassah Ein Kerem. Laniado Hospital was reported to be at 125% capacity, while Asuta Ashdod was said to be 103% capacity.
But all four hospitals denied the claims, saying their respective coronavirus wards were not filled to capacity.
A fifth hospital, Jerusalem's Hadassah Mount Scopus Hospital, said that the hospital in fact has no coronavirus ward, despite data on the Health Ministry site showing the percentage of capacity left at its coronavirus ward.
The report came as the Coronvirus Cabinet weighs plans to impose a more restrictive lockdown, after a less comprehensive lockdown was imposed last Friday.
Amid concerns that hospitals could be overwhelmed by coronavirus cases, Health Ministry Director-General Hezy Levy instructed hospitals to refrain from carrying out elective medical procedures during the crisis.
Following Monday's report by Channel 12, Dr. Vered Ezra, head of the Medical Management of the Ministry of Health, claimed the discrepancy regarding capacity at Sheba's coronavirus ward was due to the opening of additional space and beds in the ward, though the ministry's updated figures still did not correspond with the hospital's own claim that it is at 52% capacity.
"The amount of filled capacity is measured by the number of beds. Unfortunately, there was an error when Sheba Hospital opened up new areas with 30 beds without the Health Ministry being notified. That is what caused the big discrepancy with the number on the Health Ministry site. This morning the capacity level was updated – Sheba is currently at 76.4% capacity. We're very precise, in order to determine what is available and what is going on. Our data is of the highest reliability, and we understand the importance of making decisions based on these numbers."