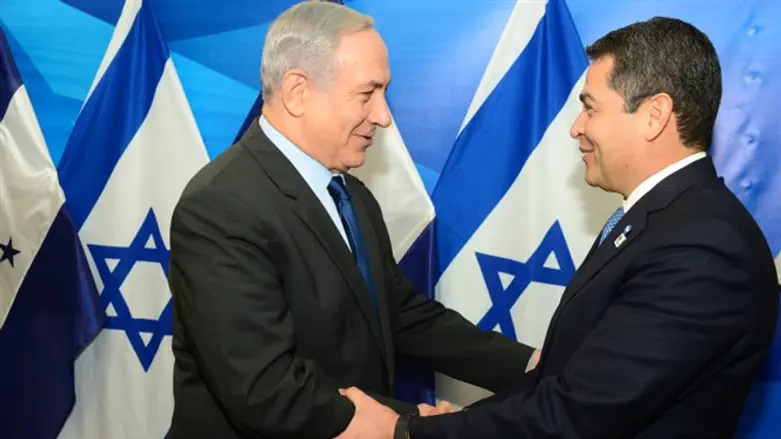 Netanyahu meets with President of Honduras, Juan Orlando Hernández
Kobi Gideon / GPO
Prime Minister Binyamin Netanyahu and the President of Honduras, Juan Orlando Hernandez, spoke on Sunday and agreed to open embassies in the national capitals of the two countries.
A joint statement from the two countries states that Honduras will open an embassy in Jerusalem, Israel will also open an embassy in the capital of Honduras, Tegucigalpa, and that they hope to complete the move by the end of 2020.
The statement also said that Netanyahu and Hernandez reaffirmed in their conversation "the close friendship and strategic partnership" between the two countries. It also said that Hernandez congratulated Netanyahu on signing the peace agreements with the United Arab Emirates and Bahrain, "as part of the peace revolution that the region is going through."
Prime Minister Netanyahu expressed his appreciation for the true friendship and firm support that Israel has received from Honduras and reiterated Israel's commitment to strengthening the partnership between the countries, including through cooperation in the fields of tourism, investment, technology, agriculture, education and trade.
"In March 2019, in accordance with the action plan and public commitments to take the first steps, Honduras recognized Jerusalem as the capital of Israel and on September 1, 2019 it opened a commerce office in the capital of Israel, Jerusalem. Today, with their flags flying in the capitals of the two countries, Israel and Honduras seek to declare their intention to complete the action plan before the end of the current year, with a mutual opening and inauguration of their embassies in the national capitals, Tegucigalpa and Jerusalem," the statement said.
Earlier on Sunday, Hernandez tweeted, "I just had a chat with the Prime Minister Netanyahu to strengthen our strategic alliance. We agreed to open embassies in Tegucigalpa and Jerusalem respectively. We hope to take this historic step before the end of the year, as long as the pandemic allows it".
"Thank you president Juan Orlando," Mattanya Cohen, Israel's Ambassador to Guatemala & Honduras replied, "for his historic, just and correct decision to move the Honduran embassy to Jerusalem, the eternal capital of the Jewish people and the state of Israel. With the Israeli embassy in Tegucigalpa we will strengthen relations between Israel and Honduras."