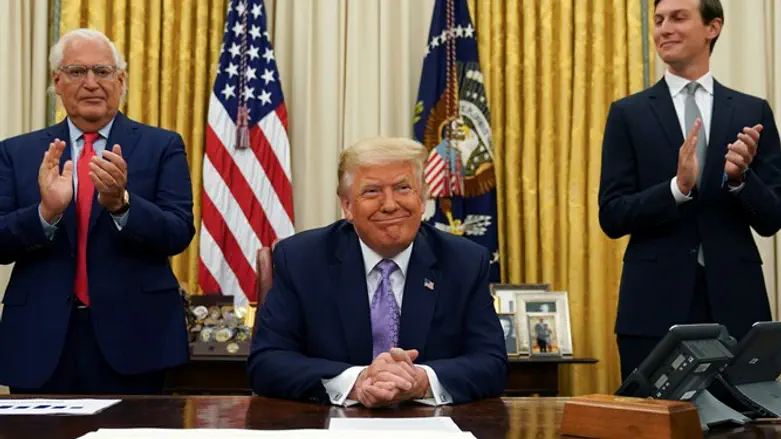 Donald Trump announces Israel - UAE peace
Reuters
US President Donald Trump told reporters at the White House on Thursday that Israel agreed not to apply sovereignty over Judea and Samaria as part of the historic agreement to normalize ties with the United Arab Emirates.
"Israel agreed not to annex parts of the West Bank. It is more than taking it off the table – they agreed not to do it. This is a very smart concession by Israel. It is off the table now," he said.
Trump described the agreement between Israel and the United Arab Emirates as "the biggest breakthrough since the peace agreement between Israel and Egypt."
"I think the Palestinians, even if they do not say so, want to be part of the peace with Israel, and they will come now when they see strong countries signing an agreement with Israel."
Trump said he would host a summit for the signing of the peace accord in around three weeks.
"I look forward to hosting them (the Israeli and UAE leaders) at the White House very soon to formally sign the agreement. We'll probably be doing it over the next, I would say, three weeks."
Speaking before Trump was US Ambassador to Israel David Friedman, who said, "It is impossible to make peace in the region and apply sovereignty at the same time. We put peace at the top of our priorities over annexation."
Earlier on Thursday, Prime Minister Binyamin Netanyahu insisted that the agreement with the UAE did not mark the end of his sovereignty plan, but is merely a temporary delay.
"Just as I promised I would bring peace with the Arab world…I also said that I would apply sovereignty over parts of Judea and Samaria. There is no change in my plan to apply sovereignty in Judea and Samaria in full coordination with the US. That hasn't changed."
"I want to remind you that I'm the one who put the issue of Israeli sovereignty in Judea and Samaria on the table. This issue will remain on the table. It only went on the table because of my efforts. I worked on it for three years with intensive talks with President Trump."
"I always said that the implementation of the sovereignty plan would only take place in coordination with the US. Declaring sovereignty without US support would at best be worthless, and worst would seriously hurt the settlements and the State of Israel."