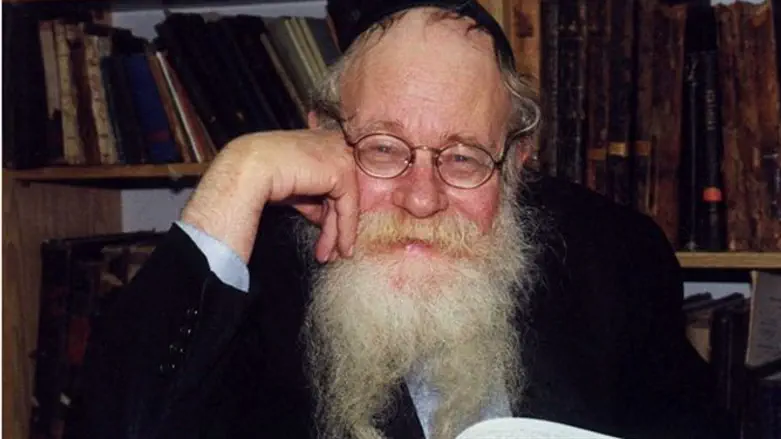 הרב עדין שטיינזלץ
ישיבת תקוע
Rabbi Adin Steinsaltz, an Israel Prize laureate best known for his translation of the Babylonian Talmud, has passed away, at the age of 83.
The funeral procession is scheduled to leave for the Mount of Olives in Jerusalem at 2:00 p.m.
Rabbi Steinsaltz had been hospitalized at Shaare Zedek Medical Center in Jerusalem, where he was being treated for a lung infection not related to the coronavirus.
Along with his translation of the Talmud into modern Hebrew, Rabbi Steinsaltz was also well-known for his writings and commentaries on the Hebrew Bible, the Talmud, and the Tanya.
A member of the Chabad Hasidic movement, Rabbi Steinsaltz was president of Yeshivat Makor Chaim and Yeshivat Tekoa.
Born to a secular Jewish family in 1937, Rabbi Steinsaltz, a native Jerusalemite joined the Chabad Hasidic movement as a teenager. He studied at the Chabad yeshiva Tomchei Temimim in Lod, while also studying math, chemistry, and physics at Hebrew University.
In 1965, Rabbi Steinsaltz began work on what came to be known as the Steinsaltz Edition of the Talmud, translating the entire Babylonian Talmud into modern Hebrew and adding technical notes and explanatory material.
The translation was completed in 2010, and has since been translated in part to a number of other languages, including Russian and English.
Rabbi Steinsaltz cofounded the Mekor Chaim yeshiva in 1984 and Yeshivat Tekoa a decade and a half later.
In 1988, Rabbi Steinsaltz won the Israel Prize for Jewish Studies; in 2012, he won the President's Medal; and in 2017 he was awarded the Worthy Citizen of Jerusalem Prize.
During an attempt to reform the ancient rabbinic court known as the Sanhedrin, Rabbi Steinsaltz was tapped to lead the court.
In 2016, Rabbi Steintsaltz suffered a stroke.
He is survived by his wife, Sarah, their three children, and their eighteen grandchildren.
The Tzohar organization released a statement Friday morning mourning Rabbi Steinsaltz's death.
"Tzohar was deeply saddened to hear of the passing of Rabbi Adin Steinsaltz, an exceptional leader of both Torah and love for the land. His life's work opened countless doors for people to study and helped bridge the diverse communities within the Jewish world. He will be forever remembered as a teacher defined by passionate caring for his people and spreading the beauty of Judaism all across the globe."