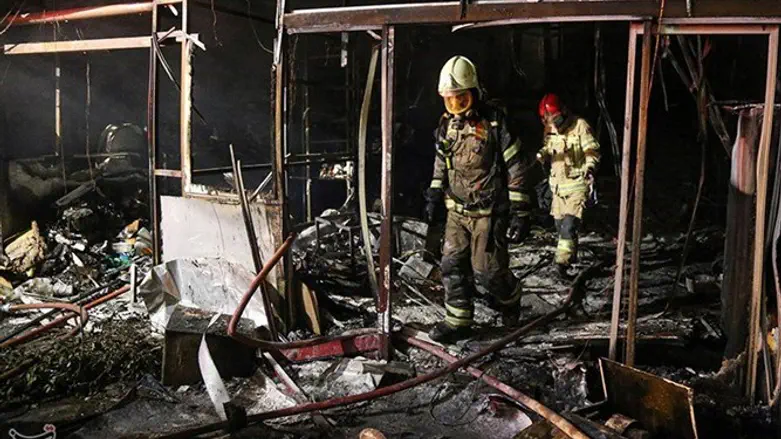 Scene of June 30th explosion near Tehran
Reuters
Former Military Intelligence Iran branch head Lieutenant Colonel Miki Segal, currently a researcher at the Jerusalem Center for Public Affairs and State, responded to an Iranian government spokesman who claims that Israel was behind the explosion in Natanz propaganda and psychological warfare.
"Iran's under heavy pressure - economically, politically, and internally," Segal said in a conversation with Arutz Sheva.
He says the series of incidents in Iran are happening at the height of the Iranian coronavirus crisis and in the midst of the U.S. sanctions against the regime that are inflicting severe economic damage.
Among other things, the economic crisis in Iran has led to a cut in the Iraqi pro-Iran militia's budget and probably also to eroding aid to other elements in the region that Iran assists, as well as increasing difficulties at home.
"Even if these are unrelated incidents, their sequence within about ten days that peaked, as it is becoming clear, with the critical hit in the Natanz centrifuge production facility, creates a sense of embarrassment and insecurity within the Iranian regime and deepens the distrust of the Iranian people who witness repeated successful attacks on the regime and its inability to respond to them," adds Segal.
In his opinion, "Also the criticism of President Rouhani for his adherence to the nuclear program is growing, even though Iran has so far not benefited from it and if anything the situation has worsened. Iran is pointing a finger at the United States and Israel, but may be minding the window of time left until Trump's term ends and will not take any action that would lead to a strong Israel/U.S. response to the regime and the Iranian nuclear program.
"Iran can still activate its proxies in Iraq, Syria, Lebanon, and Yemen, to hurt Israeli and American interests, but the ongoing economic crisis in Iran - and Lebanon - seems to be beginning to affect these Iranian chess pieces as well," Segal concludes.