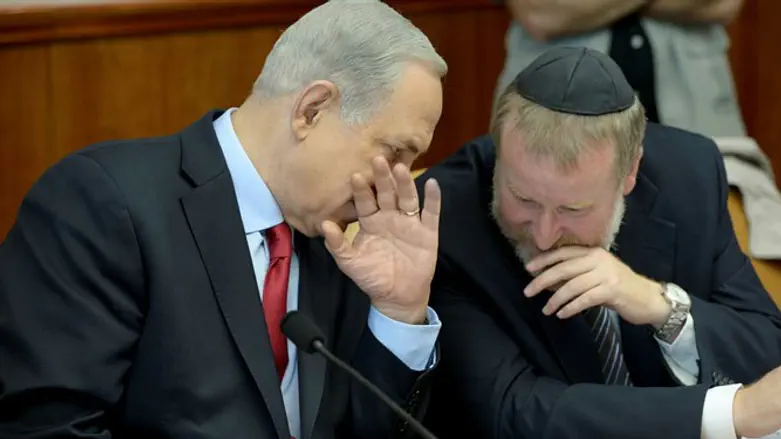 Netanyahu, Mandelblit
Amos ben Gershom/GPO
Prime Minister Binyamin Netanyahu's associates are embarking on a fierce attack on Attorney General Dr. Avichai Mandelblit, accusing him of fomenting a "government coup" plot.
The charges come after a quote by officials in the Justice Department released earlier this evening on Channel 13 News, stating that "If Netanyahu wants a gift of NIS 10 million from a friend then please, be our guest; resign and then he can also have NIS 20 million."
"The Mandelblit government coup plot has been exposed to its full extent," the sources say.
According to them, "Mandelblit is trying to undo the democratic decision of millions of citizens who elected Binyamin Netanyahu as prime minister, as well as the decision of eleven Supreme Court justices who determined that Prime Minister Netanyahu can serve."
"And this is what Justice Department officials dare to call 'democracy' and 'rule of law'," the associates added.
Opposition Chairman MK Yair Lapid attacked the Prime Minister Netanyahu following his announcement, calling the message "severe incitement".
"The only coup attempt that's taking place here is Netanyahu's attempt to turn Israel from a democracy into a dictatorship, and his criminal attempt to make Mandelblit a target for threats and incitement," Lapid said.
Lapid took a veiled snipe at his former Blue and White associates: "Anyone who continues to sit in his government after the last statement cannot later claim 'I didn't know'."