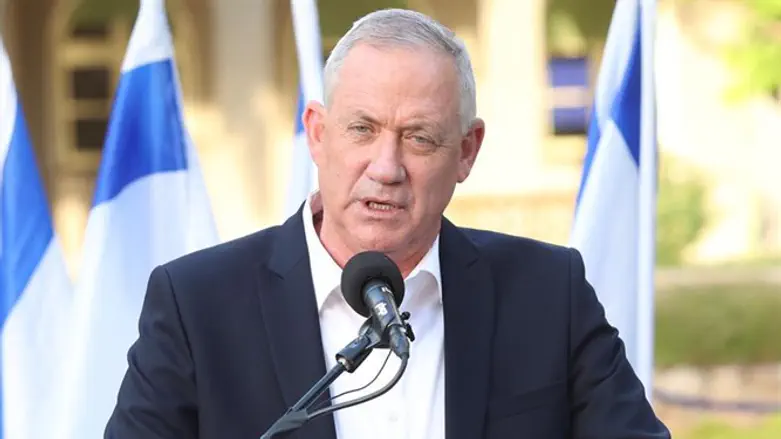 Benny Gantz
Oded Karni/GPO
Alternate Prime Minister and Defense Minister Benny Gantz requested a further extension from the Supreme Court on the issue of the Draft Law.
Full time yeshiva students have historically been given deferments and are not drafted into the IDF and it is a rethinking of this deferment that is the subject of the law. However, the Supreme Court has repeatedly struck down versions of the law, ruling that they continue to discriminate against non-haredi Israelis. In 2017, the court struck down the 2015 version of the draft law and charged the government and Knesset with passing a new law which would be acceptable to all.
Gantz asked for a three month extension for the deadline to pass the new draft law, citing the fact that the new government was sworn in just three weeks ago. If Gantz's request is granted, the government will have until September 16 to pass the new Draft Law.
The State also submitted a message to the Supreme Court saying that the issue of the expiration of the Draft Law and the military and national service of yeshiva students was brought to the defense minister's attention soon after he took office.
The State also noted that under the coalition agreement, the Draft Law will be based on the proposal submitted by the IDF and the Defense Ministry.
The Movement for Quality Government, which submitted the petition against the Draft Law, said in response: "For 20 years, Israeli governments have been promising to address the issue of equality, but all we see are excuses. Even now, when there is a government and a Knesset, the politicians are trying to delay and postpone the end. The movement intends to inform the Supreme Court that it strongly opposes the additional request for a delay, which will enable the the continuation of a discriminatory, unequal and unconstitutional policy. In the State of Israel, there is a compulsory service law which has been in effect for 70 years, and there is no reason not to apply it immediately to all yeshiva students instead of continuing to drag our feet until another discriminatory and unconstitutional law is signed. We wonder what the other initiator of the petition against the Draft Law, MK Eitan Gizburg, would have to say about this request for a delay by his colleague in the coalition."