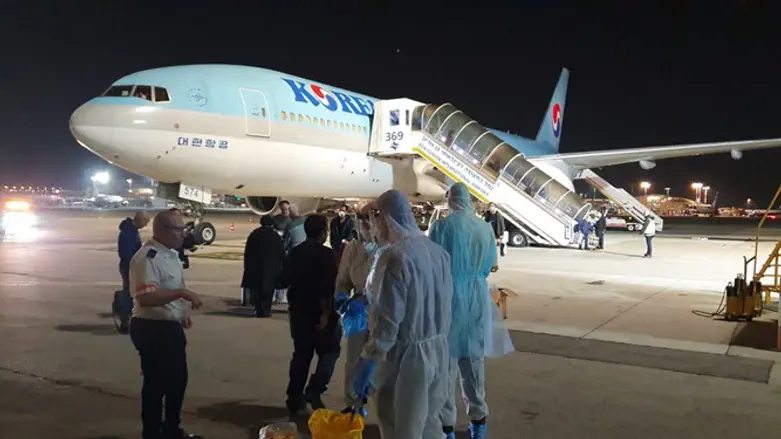 The plane whose passengers refused entry
MDA Spokesperson
The South Korean government filed a complaint with Israel on Sunday following the decision last night to prevent the entry of 130 of its citizens who had already reached Ben-Gurion Airport.
An official statement from the Foreign Ministry in Seoul said: "We expressed regret to Israel for the decision and demanded that it not happen again."
The incident came after a group of pilgrims from South Korea who visited Israel about a week and a half ago found were found to have cases of coronavirus infection.
Twelve Border Police officers who were in the Cave of the Patriarchs during the visit of the South Korean tourists were ordered into quarantine at their homes by their commander. Police said, "The decision was made after questioning and examining the security cameras that proved they were in proximity to [the tourists]."
Also, about 200 students and teachers from Afula, Be'er Sheva and Kiryat Haim were sent into quarantine until Wednesday, after staying last week at sites visited by the pilgrims. At present, the Israelis have no symptoms of the virus.