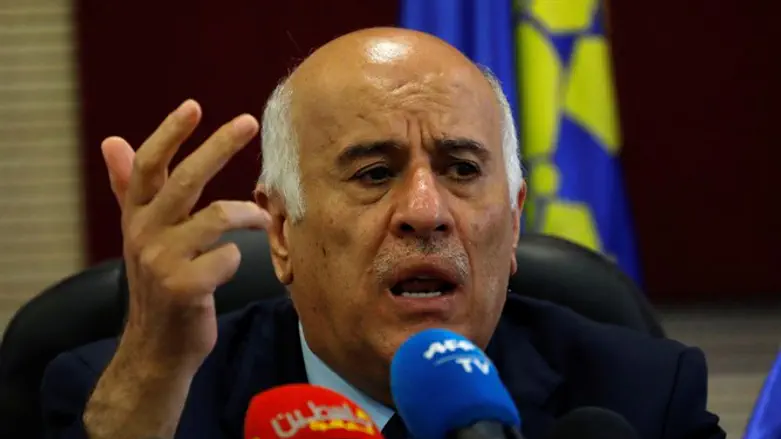 Rajoub
Reuters
Ignoring the PA's recent decision to cancel all medical treatment in Israel for Palestinians, senior Palestinian leader Jibril Rajoub is undergoing treatment in an Israeli hospital. Mako reports that Rajoub recently became ill and chose to be treated in Ichilov hospital in Tel Aviv.
The PA decided to end all medical care for its subjects in Israel following Israel's decision to deduct from the tax money Israel collects for the PA the amount equal to the PA's salary payments for terrorists in jail. The decision to prioritize salaries to terrorists over medical care for the general population, thousands of whom until now were being treated in Israel annually, took effect on March 26, 2019, when PA Ministry of Health Spokesman Osama Al-Najjar announced that "the decision is political par excellence, and comes in response to Israel deducting sums from the money that it collects for us."
Israel has willingly accepted to treat Rajoub despite the fact that he has openly called to murder Israelis and has made it his key issue to advocate against "normalization" with Israel in sports.
Commenting on this latest example of PA double-standards, Palestinian Media Watch (PMW) senior analyst Nan Jacques Zilberdik said: "The favoritism of the PA is striking. Not only do ordinary Palestinians have to forego medical care in Israel because the PA is adamant about paying high salaries to terrorists, Palestinians also have to witness one of their own leaders getting treatment in a Israeli hospital that for them is off bounds. Someone should give Rajoub a copy of Orwell's Animal Farm, unless of course he's already read it, as he has clearly adopted its ideology."
Rajoub was the most vocal of PA leaders in his support for terror and explicitly called to murder Israelis during the terror wave in 2015-2016, the so-called "Knife Intifada," which saw months of murderous Muslim attacks, including stabbings, shootings, and car rammings. In repeated public statements on PA TV, Rajoub said murderers of Israelis should be seen as Palestinian "heroes," and "crowns on the head of every Palestinian." Rajoub also stated that Fatah "blessed and encouraged" the murderers - and that he objected to suicide bombings on buses in Tel Aviv only because the international community would be angry at those kind of killings: At the time Rajoub defined the strategy as "We want to fight in such a way that the world and the international community will remain by our side." He explained that "Palestinians" should focus on killing soldiers or "settlers" because the international community doesn't care about them. (Based on this incitement, PMW gave in a complaint to the Israeli police to investigate Rajoub on charges of incitement to murder.)
PFA chief Rajoub with Argentina's soccer player Lionel Messi
Reuters
PMW Founder and Director Itamar Marcus commented: "Whereas the PA's favoritism towards its leaders is common and expected practice in corrupt governments like the PA, Israel's generosity is not common and should not be expected. Israel's willingness to ignore that Rajoub not so long ago was encouraging Palestinians to murder Israelis, and glorifying the murderers as "crowns on the heads of Palestinians," is very disturbing. Israel should have at least demanded from Rajoub an on-camera retraction of his terror support before letting him set foot in Israel. Otherwise, we will heal Rajoub today and tomorrow he will again be telling Palestinians to murder Israelis."
Rajoub has also made it his key personal issue to be against "normalization" with Israel. As Chairman of the PLO Supreme Council for Youth and Sport Affairs, Rajoub has prohibited PA athletes from engaging in any sports activities with Israelis. Recently he demanded that "the Arab and Islamic states cease every form of normalization with Israel in the field of sports" and he "demanded" that the Spanish football club Atlético Madrid "not play against the racist club Beitar Jerusalem" because the match was to take place in what Rajoub referred to as "an occupied Palestinian area." In reality, the match was to take place in the western part of Jerusalem.
Jacques Zilberdik notes: "Now that Rajoub is sick, he is willing to bend the rules: "Normalization" in sports - which benefits the general Palestinian population and fosters peace - is bad and prohibited, but "normalization" in health care for Rajoub is wonderful and allowed. Furthermore, he seems happy to be treated by the same Israelis he encouraged Palestinians to murder."