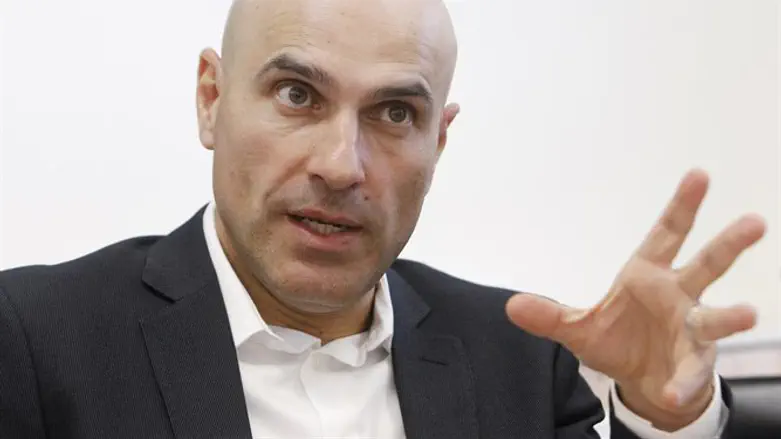 Effi Naveh
Flash 90
Retiring Bar Association Chairman Attorney Effi Naveh filed a complaint this morning with the police about the theft of his cell phone.
The complaint relates both to the device's theft and as he claims to hacking and using the contents contained therein.
The complaint was filed on Naveh's behalf by his attorney Boaz Ben-Zur, stating the device that was breached was "a private, password-protected mobile phone that shouldn't be in the hands of anyone other than Mr. Naveh. No one has permission to make any use of it."
The complaint further states that "taking the device, breaking into it, receiving and holding it, examining it, and leaking the materials found in it are all clear criminal offenses that require police investigation."
The device was handed over to Army Radio reporter Hadas Shteif, who reportedly broke into the device with the help of experts and was exposed to its content.
Later, for fear that her actions would constitute a criminal offense, she came to an agreement, with the mediation of the Judge Advocate General's Office representing Army Radio, with the State Prosecutor's Office to transfer the device to the State Attorney's Office in return for immunity from prosecution.
Following the device's transfer the police opened an investigation against Naveh and against a judge and a lawyer on suspicion of involvement in the affair of sexual bribery in exchange for appointing judges.
Friday it was reported the State Prosecutor's Office warned the IDF radio station to stop using the private materials obtained from Effi Naveh's mobile phone, who is suspected of bribery, fraud, and breach of trust in the bribery-in-return-for-appointing-judges affair.
Haaretz reported the State Attorney's Office clarified that continued use of private materials may lead to criminal steps against her. The warning was given in light of the immunity agreement between the State Prosecutor's Office and the station's correspondent Hadas Shteif that prohibits the use of illegally obtained material.
According to the report, the source of the material transferred to police in the affair is Naveh's old cell phone. The device reached Shtief, who was helped by a man who broke into it. After consultation with the Judge Advocate General's Office, it was decided that materials would be transferred to the police.
Under the guidance of Deputy Attorney General Raz Nizri, the State Prosecutor's Office and Steif agreed she would receive immunity in exchange for handing over the device. As a result, the device was transferred to the National Fraud Unit of the Israel Police that was issued a search warrant for the phone.