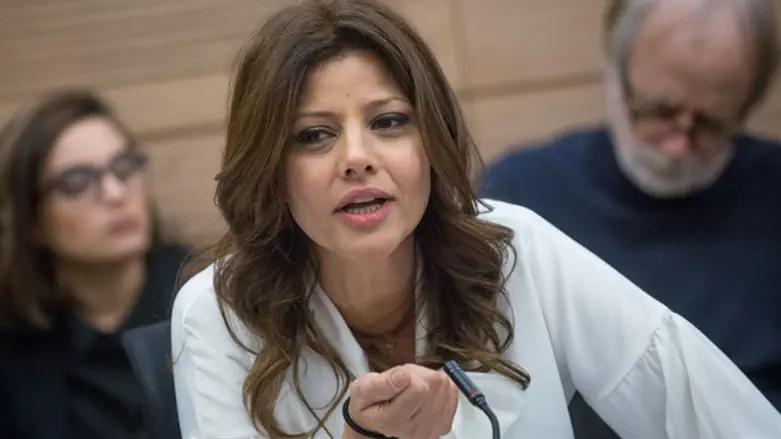 Orly Levy-Abekasis
Miriam Alster/Flash 90
MK Orly Levy-Abekasis announced on Tuesday night that the name of the party she is currently establishing will be Gesher (the Hebrew word for bridge -ed.), the same name of the party her father, former minister David Levy, founded in the 1990s after he left the Likud.
Levy, who left the Yisrael Beytenu party after it entered Prime Minister Binyamin Netanyahu's coalition, announced the name of the new party in a post she published on Facebook.
"Now is the time to make sure that any government that will be established here after the elections will no longer neglect the social issues, even if they are bored by them. Now is the time to return Israel to a state that does not abandon the weak. Now is the time to build a bridge here," she wrote.
"A bridge between populations that have known for too long that they should hate each other. A dangerous division that prevents us from fighting the common enemy: cynical interested persons who enjoy the mutual sedimentation and the convenient division into boxes. A bridge between the present, which is stuck in past terms of the left, the right and the center, and a future which is real growth, one that meets everyone and closes unbelievable gaps among all groups in Israeli society," she added.
Levy-Abekasis also mentioned the fact that the party has the same name as her father's former party.
"There is one more important personal meaning to me: Gesher was the name of my father's party. The man who taught me that no one is doing us a favor when we are making our voice heard, that the Israeli establishment is not reserved only for the strong but for all citizens, and that politics is a mission that must be treated with reverence."
"The 2019 elections are a historic opportunity to implement a new social order in Israel, to restore it to a state that is repairing injustices and dealing with years of neglect. It is possible and it depends only on us," she concluded.