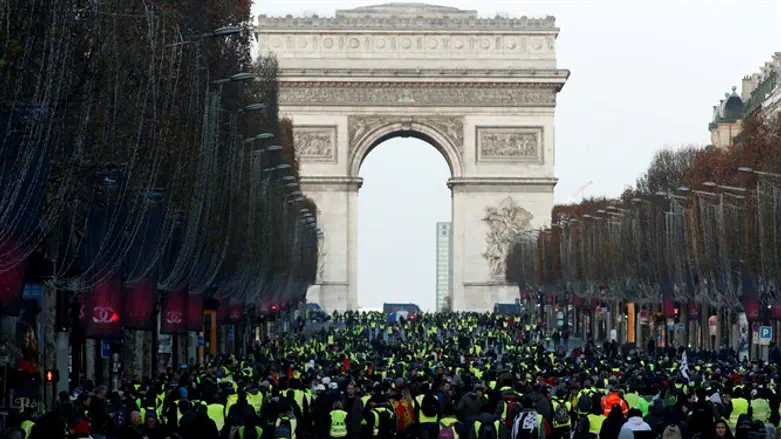 Protest in Paris
Reuters
A 74-year-old Jewish woman whose father was killed in Auschwitz confronted three men who made a Nazi-inspired salute on a Paris train, JTA reported on Monday.
The men were participating in France's "Yellow Jacket" tax protest, and wearing its signature vests, when they made the quenelle salute promoted by the anti-Semitic comedian Dieudonne M'bala M'bala on Saturday evening, according to the report.
The woman, who was identified only as Agnes, fired back, "It's an anti-Semitic gesture, I'm Jewish, my father was deported to Auschwitz where he died. I ask you to stop." She added, however, that the protesters just laughed and continued to do the salute.
One of the protesters told her that Auschwitz never existed. Nobody on the train stood up in her defense, according to JTA.
The quenelle gesture, which looks like an inverted Nazi salute, was invented by Dieudonne and has become extremely popular in anti-Semitic and extremist circles across the French-speaking world and worldwide.
He was widely accused of promoting anti-Semitism and already has a string of convictions in France for hate speech and other related offences. Dieudonne also saw his performancesbanned by French authoritiesdue to their virulently anti-Semitic content.
In 2015, a French court convicted Dieudonne of anti-Semitic comments and fined him $24,000.
He was also sentenced to jail in Belgium over racist and anti-Semitic remarks at a show in the southeastern Belgian city of Liege in 2012.
France's National Bureau for Vigilance Against Antisemitism (BNVCA) said recently that the "Yellow Jacket" protests launched last month were giving rise to anti-Semitic rhetoric. The movement has expanded into an anti-government drive featuring violent riots that have shut down the French capital several times.
Some protesters have been filmed carrying signs and chanting slogans describing French President Emmanuel Macron as a "whore of the Jews" and their "puppet."
France has already seen an increase in anti-Semitic acts, which rose by 69 percent in the first nine months of 2018.
In recent years, France has seen several cases of extreme violence against Jewish victims whose attackers singled them out for robbery, rape and murder because they were Jewish.
In March, 85-year-old French Holocaust survivor Mireille Knoll was murdered in her apartment in Paris.
Prosecutors later indicted two defendants in connection with what is being tried as a murder with aggravated circumstances of a hate crime. They are also charged with robbery.
One of the suspects in custody, a 29-year-old Muslim man, was a neighbor of Knoll. Prosecutors investigating the murder have confirmed the two suspects in custody targeted her because she was Jewish.
Last month, two Jews were assaulted in two separate incidents on the streets of Paris, in what police said may have been hate crimes.
And last week, a 20-year-old French-Jewish woman was robbed and assaulted by two teenagers hurling anti-Semitic insults.