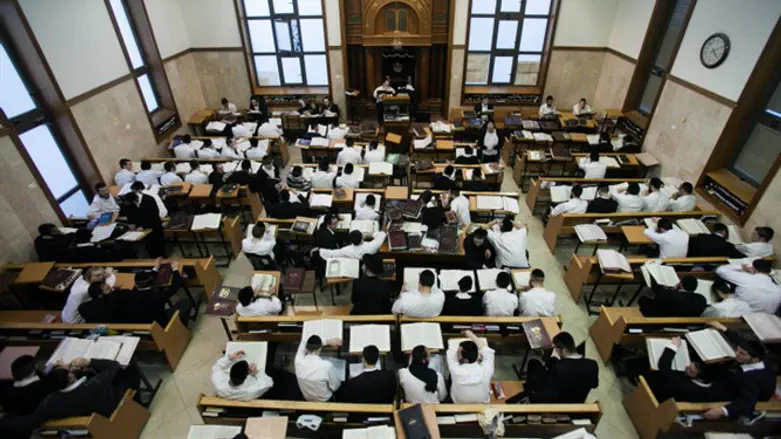 Mir Yeshiva
Yonatan Sindel/Flash90
The number of registered yeshiva students in Israel has hit a new all-time high, according to a report by the Israel Democracy Institute.
The IDI's annual report on the haredi sector found that the number of registered yeshiva students in Israel rose to 124,450 in 2017 – the highest number ever recorded.
That figure, the IDI noted, includes both Israeli students and foreign nationals.
The number of yeshiva students in 2017 marks a 31.4% increase over the number of students just three years earlier.
While part of the rise can be attributed to a larger number of students from abroad coming to study in Israel, even when non-citizens are removed from the calculation, the number of Israeli yeshiva students was 21.7% higher in 2017 as compared to the number in 2014.
The researchers behind the study, Dr. Gilad Malach and Dr. Lee Cahaner, said the surge was likely caused, at least in part, by the sudden decline in yeshiva attendance while Yesh Atid chief Yair Lapid served as Finance Minister (2013-2014), during which funding for yeshivas was cut.
In an interview with Yediot Ahronot, the researchers added that following Lapid's departure and the establishment of a new governing coalition including the haredi factions, funding increased for yeshivas – and the number of students expanded, following the contractions during Lapid's tenure.
Following years of steady increases in yeshiva enrollment, the number of yeshiva students dropped by 12.5% in 2013, and slid a further 3.5% in 2014.
In 2015, however, with the inauguration of the new governing coalition, yeshiva attendance jumped 19% in a single year, returning the number of students to the pre-Lapid level.
With the increases in the number of yeshiva students, however, there has also been a slight decline in the number of haredi students enrolled in secular higher education programs.
In 2016, 9,600 haredi students were enrolled in academic programs in colleges and universities across Israel – not including the Open University. That number fell in 2017 to 9,400, despite the growth of the haredi community as a whole.