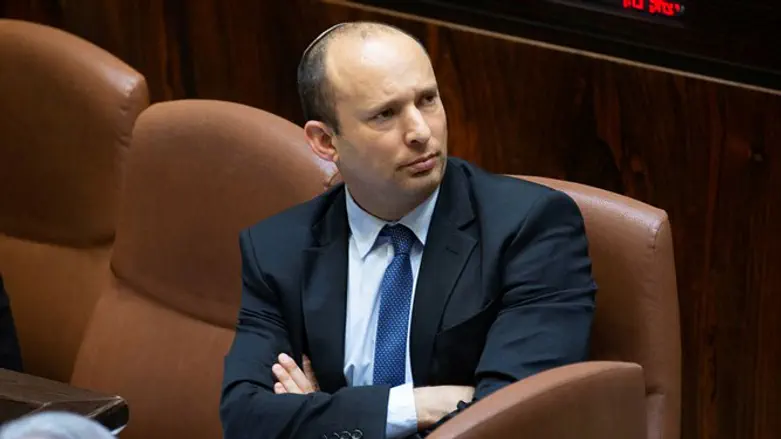 Naftali Bennett
Esti Desiubov/TPS
The Ministerial Committee for Legislation approved on Sunday evening the bill for the expulsion of families of terrorists promoted by Education Minister Naftali Bennett and MK Motti Yogev (Jewish Home).
The bill had been postponed several times in recent months at the prime minister's request. At the end of a long and complex discussion that took place Sunday evening in the cabinet, and despite the opposition of the judicial bodies, Minister Bennett instructed Justice Minister Ayelet Shaked to convene the Ministerial Committee for Legislation and approve the law.
"The approval of the law is an important step in the war against terrorism and the restoration of deterrence," Bennett said after the bill was approved by the ministerial committee. "The terrorists have stopped being afraid of us. Jews are murdered because participation in terror attacks has become a lucrative business, and legalization paralyzes the defense establishment from taking action."
"I am happy that we decided to pass the law, despite the vigorous opposition of the jurists around Netanyahu. We are renewing the deterrence so that Israel can go back to winning," he added.
According to the proposal, the head of the IDF Central Command will be permitted to deport the family of a terrorist who harmed or attempted to harm within seven days of the attack from their area of residence to another area in Judea and Samaria in order to increase deterrence.
During the cabinet meeting Sunday evening, Attorney General Avichai Mandelblit argued that the expulsion of families of terrorists is illegal. Bennett replied that it is precisely for this reason that a law should be passed allowing this.
According to a report on Channel 10 News, representatives of the IDF claimed during the discussion that the expulsion of families of terrorists would not deter potential terrorists, but Bennett insisted that the move would deter terrorists and reduce Arab terror.
Bennett also argued with the representatives of the IDF and the Ministry of Justice on the issue of the demolition of terrorists' houses. The representatives had claimed that all the requests for demolitions of homes were approved in accordance with criteria set by the Supreme Court.
The Jewish Home chairman said in response that there were many homes of terrorists that requests for their demolition had not been submitted, and brought several examples of the homes of such terrorists.