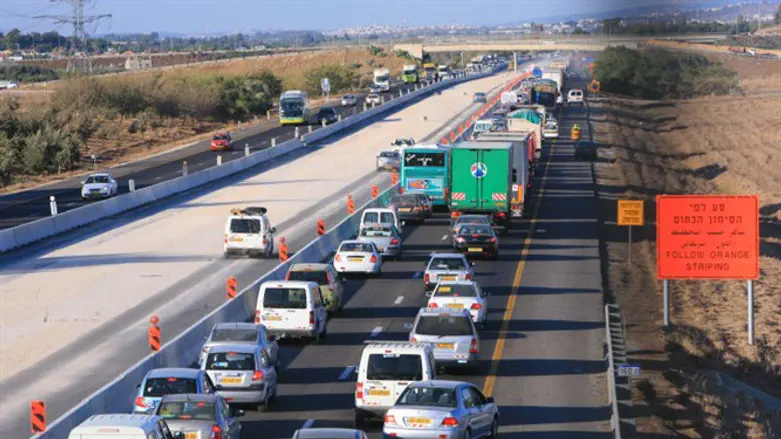 Highway 6 (archive)
Flash 90
Agriculture Minister Uri Ariel, who is in charge of the government's Bedouin Authority, ordered the evacuation of about 1,000 Bedouin families currently living in the area in which another section of Highway 6 will be paved further south.
One hundred of the families set to be relocated are currently residing along the route of the road and the planned Abu Talul-Nevatim interchange.
The Bedouin Authority is already preparing for the absorption and settlement of the Bedouin scattered along the route of Highway 6 in the new section from Shoket Junction to Route 25 in Nevatim.
Minister Ariel decided that the the development of the Negev and the settlement of Bedouin communities required the evacuation and arrangement of all the 1000 families and not just the 100 families who were blocking the construction of the new highway section.
For the evacuees, new neighborhoods will be built in the Bedouin settlement of Tel Sheva, Abu Talul and Umm Batin - 500 housing units in each of them. Work on the first batch of homes in Umm Batin is already underway and the houses will be ready in April of next year,. The State has reached an agreement with the first group of evacuees who will move into those homes in Umm Batin.
In Tel Sheva, temporary absorption areas will be set up for the families of the evacuees alongside the permanent construction which will be built for them.
For the purpose of transferring the families, the Bedouin Authority's Planning Division will provide each family with land and compensation of NIS 250,000 ($66,000), as is customary in all of its evacuation agreements. In addition, compensation will be added to the evacuees from Highway 6 in accordance with its procedures.
The expropriation order (granted by virtue of the Highway 6 Law) will be given in January, and therefore no legal opposition measures have been registered by any party.
"The government is committed to demonstrate governance in the Negev, and this operation, together with the extension of Highway 6 southward, will bring impetus to the Negev and return to the state huge tracts of land," Ariel said.
Yair Maayan, Director General of the Bedouin Authority in the Negev, added that "the construction of the highway and its paving is a very significant step on the way to turning the Negev into an advanced and regulated territory. Thanks to the budget-intensive projects that the Bedouin Authority is implementing today, and certainly in the future we will see more organized and legal construction and more infrastructure for the benefit of all the populations living here. "