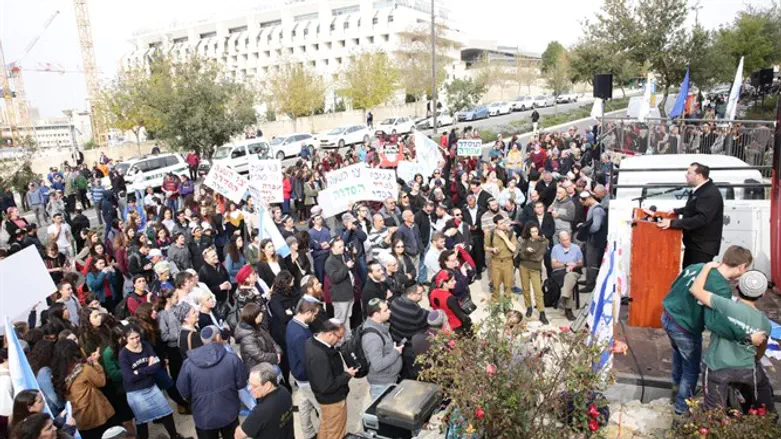 'We want normalization.' Protest on Sunday
Esti Daziobov/ TPS
Hundreds of residents of Judea and Samaria communities, supporters from around the country and a series of heads of local councils from Judea and Samaria, arrived Sunday morning to demonstrate in front of the Prime Minister's Office during the weekly cabinet meeting.

The residents are protesting against weakness in dealing with terror, and at the same time demand practical measures to strengthen Judea and Samaria communities, including the town of Ofra in Binyamin.
Protesters held signs reading "Enough abandonment - we want normalization"; "We are done being silent"; "Ofra is a fact! Give us a building plan," among others.

A number of cabinet ministers attended the protest, including Minister Naftali Bennett, Minister Uri Ariel, Minister Ayelet Shaked, Minister Yariv Levin, Minister Ofir Akunis, Minister Eli Cohen, as well as a number of Knesset members.

Minister Ze'ev Elkin identified with the demands of the demonstrators and added, "It is also necessary, and I have been saying this for a long time, to take steps against the Palestinian Authority and Abbas."

"Abbas is not the solution, as certain elements in the IDF think, he is part of the problem, and the payments to the terrorists who sit in the prisons are proof of that," he added.

Minister Elkin emphasized that beyond the treatment of security and action vis-à-vis the Palestinian Authority, "on the other side of the equation, we must develop settlement, normalize existing settlements, advance the 'fabric of life' law that I hope will come today to the Ministerial Committee for Legislation and increase the acceleration of construction throughout Judea and Samaria."
Minister of Tourism Yariv Levin said at the rally, "I came here this morning before the cabinet meeting to say clearly - the time has come for the actions, the time has come to be released from the artificial legal cables that are imposed on us all the time. The time has come to pass today in the Ministerial Committee for Legislation the Law for Young Settlements and also do advance wide-scale building in response to those lowly murderers. In a place where Jews are murdered only because they are Jews, this is the place where a new, young and strong settlement must be established in Elon Moreh, in Nofei Nehemia, in Ofra, in Har Bracha, and this is the direction in which we will go with full force and determination."
Chairman of the Jewish Home and Education Minister Naftali Bennett said: "Our hands are tied because of 'Fake Law' and 'Fake Ethics.' The prime minister promised two weeks ago to return the force to the IDF, and it still hasn't happened. He promised to demolish the homes of terrorists, but 106 homes still haven't been demolished. I call out to the prime minister, you promised - now fulfill."

"Every time there is terrorism we have to build," Bennett stressed. "We will reach peace with our neighbors when they give up hope of getting us out of this country. How will they give up? When we build more communities, more schools and more kindergartens."
credit: אסתי דזיובוב/ TPS
credit: אסתי דזיובוב/ TPS
credit: אסתי דזיובוב/ TPS
credit: אסתי דזיובוב/ TPS
credit: אסתי דזיובוב/ TPS
credit: אסתי דזיובוב/ TPS
credit: אסתי דזיובוב/ TPS
credit: אסתי דזיובוב/ TPS