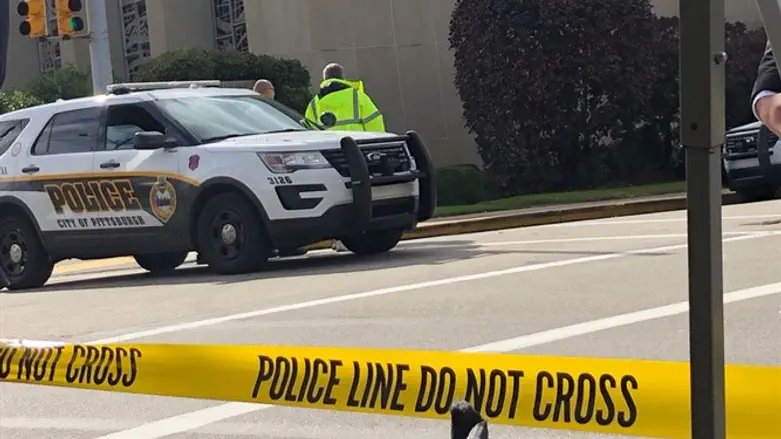 Scene of Pittsburgh shooting
Alexi Rosenfeld
The Pittsburgh Department of Public Safety and the Pittsburgh police are investigating the distribution of anti-Semitic pamphlets in the city's neighborhoods, The Hill reported on Sunday.
"The Pittsburgh Department of Public Safety and the Pittsburgh Bureau of Police are aware of and are investigating the dissemination of anti-Semitic pamphlets in Pittsburgh neighborhoods, including Squirrel Hill," the department said on Twitter.
"Such hate-filled material will not be tolerated in Pittsburgh — not by residents, city officials nor Law enforcement," the statement added. "The Department of Public Safety assures the community that we are taking this matter very seriously and will follow every investigative avenue."
"Pittsburgh is and will remain stronger than hate."
The department of public safety did not provide details about the contents of the pamphlets, or the specific locations in which they were found.
Squirrel Hill is the Pittsburgh neighborhood where a gunman opened fire at the Tree of Life synagogue on October 27, killing 11 people.
The suspected shooter, Robert Bowers, raged against Jews during and after the shooting, authorities said.
Bowers was indicted by a federal grand jury on 44 counts. Charges against him include religious hate crimes, firearms charges and causing injury to police officers. He remains jailed without bail, and has pleaded not guilty to the charges.
Before entering the synagogue, Bowers tweeted that "I can't wait while my people are getting slaughtered.... I'm going in". His social media was rife with anti-Semitic comments.
US President Donald Trump described Bowers as "pure evil" after the massacre.
The US House of Representatives recently unanimously approved a bipartisan resolution condemning the anti-Semitic attack on the Tree of Life synagogue.