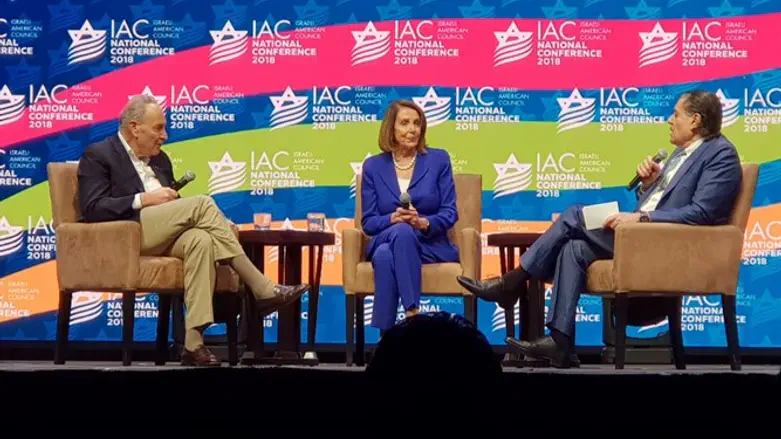 Saban, Pelosi and Schumer at IAC Conference in Miami
Yoni Kempinski
Congresswoman Nancy Pelosi (D-CA) and Senator Chuck Schumer (D-NY), two senior members of the Democratic party, spoke on Sunday at the closing plenary of the Israeli American Council (IAC) National Conference in Miami.
The two were interviewed by Israeli-American businessman and philanthropist Haim Saban. Pelosi said she supports the two-state solution for the Israel-Palestinian Authority (PA) conflict.
"I would say that the principles we hope to see are those of a two-state solution – we want a solution. And I've said [to Prime Minister Binyamin Netanyahu]: If it's not a solution than two-state doesn't mean anything. Focus on the word solution. We have to make it really clear to the Palestinians that we expect them to be responsible negotiators and we haven't seen a lot of that thus far," said Pelosi.
She stressed, "We want Israel to prevail as a Jewish democratic state. But we have to make sure there is security – that is the responsibility of any government – to protect and defend – and the security of Israel is essential to the solution. Don't separate anything from the word solution."
"I believe the establishment of the state of Israel was the greatest political accomplishment of the 20th century," continued Pelosi, who described Israel as "a beacon of hope and values and we cannot in way have that diminished because Israel is not just a country" but also shares ideals and values with the United States and is a close friend.
As the Trump administration prepares to unveil its peace plan, Pelosi said, "We all have a shared interest in a peace plan not weakening Israel's security."
Haim Saban noted that the connection between Israel and the United States is mutual. "The United States not only helps Israel but Israel helps the United States, and I am proud to say that as an Israeli-American."
Schumer agreed with Saban's statement and noted the shared intelligence, keeping an eye on terrorists, and the military cooperation between the countries. "No other country does more to protect American from terrorism than Israel and that's a point that must be made known," he stressed.
The issue of anti-Semitism also came up in the discussion, and Schumer said, "Everyone should fight anti-Semitism, not just the Jews. If we ignore it will grow. The most important thing is to speak out loudly against it. Also, legislation is important, and there is new legislation against anyone who commits hate crimes."
"The poison of Europe for millenia has been anti-Semitism and other thing we should all be doing as citizens, elected leaders, is speaking out against European anti-Semitism because Jewish people are afraid to live there. So we can't forget overseas anti-Semitism because when it grows in one place it spreads to another," he continued.
Israel's ambassador to the United States, Ron Dermer, who spoke at the conference after the senior Democratic officials, said that while the current president is Israel's best friend, it is important to note that there is great support for Israel, as the conference participants heard from the leaders of the Democratic party.