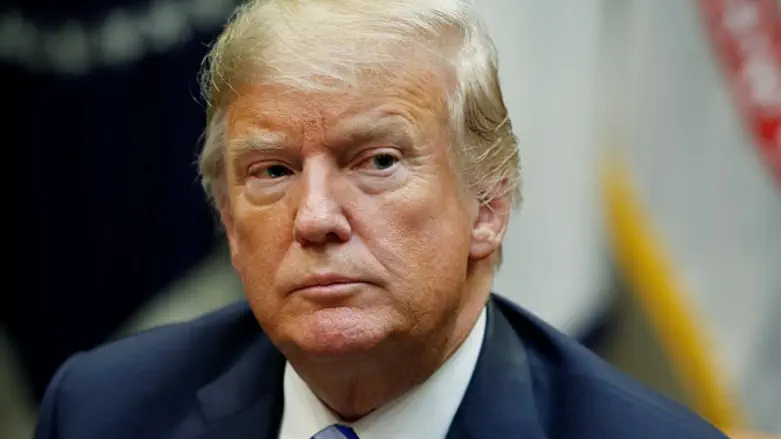 Donald Trump
Reuters
US President Donald Trump hinted on Tuesday that Israel is one of the reasons that he is keeping US military forces in the Middle East.
Trump's comments were made in an interview with The Washington Post and came in response to a broader question on US-Saudi relations in the wake of the murder of Saudi journalist Jamal Khashoggi.
"It's very important to have Saudi Arabia as an ally, if we're going to stay in that part of the world. Now, are we going to stay in that part of the world? One reason to is Israel," said Trump, who added that "Oil is becoming less and less of a reason because we're producing more oil now than we've ever produced. So, you know, all of a sudden it gets to a point where you don't have to stay there."
Trump also justified US relations with Saudi Arabia, despite the murder which has been blamed on the Saudi Crown Prince, Mohammed Bin Salman, saying "it's a rough part of the world. It's a dangerous, rough part of the world. But they've been a great ally. Without them, Israel would be in a lot more trouble. We need to have a counterbalance to Iran."
Trump made similar comments last week, when he told reporters that Saudi Arabia's alliance with the United States is critical for not only the United States, but Israeli interests as well.
"If you look at Israel, Israel would be in big trouble without Saudi Arabia. So what does that mean? Is Israel going to leave? Do you want Israel to leave? We have a very strong ally in Saudi Arabia. We have an ally that says that it did not commit – at the top level, the Crown Prince, the King – this atrocity," he said last Thursday.
Last Tuesday, the White House released a statement from the president in which Trump referenced the interests of both the US and Israel in connection to the Saudi regime.
"The United States intends to remain a steadfast partner of Saudi Arabia to ensure the interests of our country, Israel and all other partners in the region. It is our paramount goal to fully eliminate the threat of terrorism throughout the world!"
In October, Trump told the Wall Street Journal that Saudi Arabia had been "a very good ally with respect to Iran and with respect to Israel."
There have been reports in recent years that Saudi Arabia and Israel have been getting closer, but the Saudis have repeatedly denied these reports and have conditioned ties with Israel on it accepting the 2002 Saudi Peace Initiative.