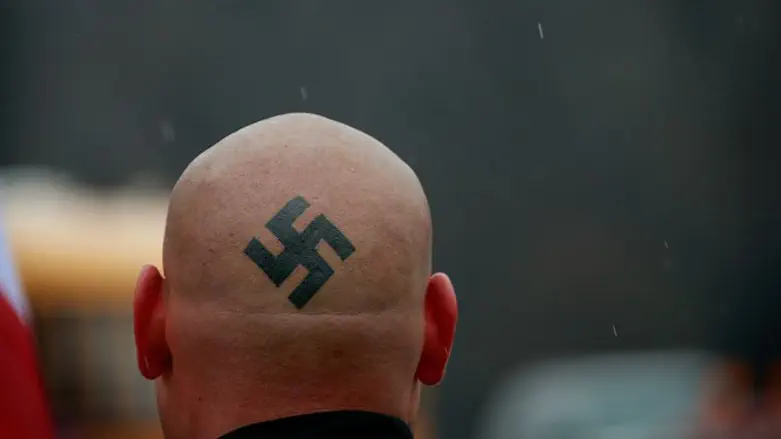 Neo-Nazi (file)
Thinkstock
A British neo-Nazi who was convicted Monday of membership in a banned group and who had named his son after Nazi leader Adolf Hitler and photographed himself with a swastika flag had once been a student at a Jerusalem yeshiva.
Adam Thomas, a resident of the town of Banbury, in Oxfordshire in central England studied at the Machon Meir Yeshiva in Jerusalem for two periods of time in 2015, the London-based Jewish Chronicle reported Monday evening.
One of the largest National-Religious yeshivas in Israel, Machon Meir was founded by Rabbi Dov Bigon in the mid-1970s in Jerusalem's Kiryat Moshe neighborhood. Like the nearby Merkaz Harav Yeshiva, the school is heavily influenced by the teachings of Rabbi Avraham Yitzhak Kook and his son, Rabbi Tzvi Yehuda Kook.
Unlike Merkaz Harav, however, Machon Meir engages in large-scale outreach to irreligious youths or students returning to religious observance, and also has several large foreign language departments, as well as a conversion program.
Thomas, now 22 years old, was convicted by an English court on Monday of membership in the neo-Nazi group "National Action". Two others, including Thomas' girlfriend, Claudia Patatas, were also convicted of being members in the banned group.
During the trial, it was revealed that Thomas and Patatas had given their son the middle name of "Adolf", after the Nazi leader, and owned a large number of Nazi memorabilia. Patatas, it was revealed, once declared in a message to a fellow National Action member that "All Jews must be put to death."
Photographs of the two posing with swastika flags were displayed as evidence during the trial.
Three years ago, however, Thomas – who is not Jewish – studied at Machon Meir Yeshiva under the name of "Avi Thomas", and had applied to the school's conversion program. Students say Thomas was generally referred to as "Avi Ben Avraham" – 'Ben Avraham' meaning 'Son of Abraham' - the name traditionally applied to converts to Judaism.
Thomas reportedly studied at the yeshiva during two separate periods in 2015, but was eventually denied his application for conversion.
A Machon Meir official confirmed the report, saying that Thomas was turned away after staff members realized he was unstable.
"We sensed after a while that he was a real 'meshugeneh' [mentally-unstable individual]," the yeshiva official said. "This was not evident immediately. He was quite knowledgeable in Torah, mild-mannered and even somewhat pleasant."
"He has a fantastic memory and was passionate about Torah knowledge. He has a very dark side as well, and a pull towards extremism. Once this side came out we knew he was not worthy for giur [conversion] studies."
Fellow students described Thomas as "bright" – but also withdrawn and tending towards extremism, with some saying he was apparently carrying emotional baggage related to past trauma and a "rough" childhood.
Thomas was ultimately dropped from the yeshiva's program in December 2015, but is believed to have stayed on in Israel until returning to the UK sometime in 2016.