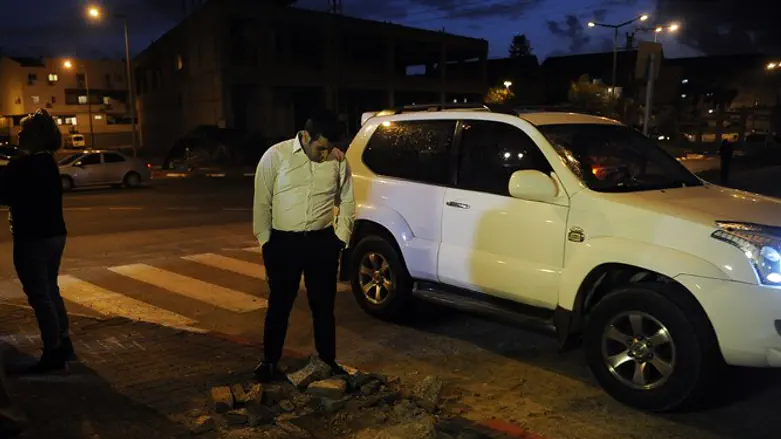 Israeli man inspects the site of Islamic Jihad rocket strike in southern town of Sderot
Flash 90
Rina Mor Yosef, who has lived in Sderot for 36 years, is deeply critical of the conduct of the defense establishment in the light of the rocket attack on the communities surrounding the Gaza Strip.
"I do not believe we have reached this state. My children and my grandchildren are screaming in armored personnel carriers. There is no electricity. Dozens of missiles have landed here. I ask Prime Minister Binyamin Netanyahu, I chose you, so why are we in this situation?" Mor Yosef asked in an interview with Arutz Sheva.
She called on the prime minister to wake up and take a harder hand against Hamas. "No one wants war. The role of the IDF and the Israeli government is to deter as much as possible. It is written that he who comes to kill you, you rise early to kill him. Why does this trial take place with Liberman and Netanyahu?"
Mor Yosef declared that she will not break even in the face of such attacks. "I have been living here for 36 years and I have children and grandchildren who have stayed here with me. I will not leave Sderot."
"Everyone is now in the dormitories in the dark and they ask me 'Mom, you said Hamas would ask forgiveness, so what did we do to them?' How much can you calm the children? Where is the Israeli government in this whole story? To rehabilitate and put an end to terror," she concluded.
Over 100 rockets have been fired at Israeli territory so far Monday afternoon and evening. Multiple houses have been damaged by rocket strikes, and ten people have been treated for injuries and shock. One 19-year-old man is in critical condition after a mortar strike.