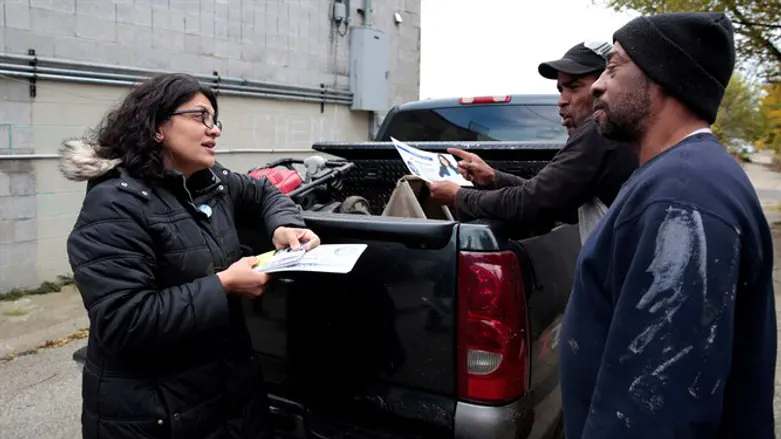 Tlaib
Reuters
Michigan Democrat Rashida Tlaib, who won a seat in the US House of Representatives, wrapped herself in a "Palestinian" flag at her victory party. She is one of the two first Muslim women ever to be elected to the deliberative body, along with Somali Ilhan Omar from Minnesota.
Daughter of Arabs who left Samaria for Nicaragua and later Detroit, Tlaib became the first Muslim female member of Michigan's state legislature a decade ago. Tlaib is a vocal critic of President Donald Trump and was arrested two years ago for disrupting a Trump speech in Detroit, reported Yeshiva World.
Asked during an interview with British Channel 4 News whether she would vote against military aid to Israel when she goes to Congress, Tlaib said "absolutely."
"U.S. aid should be leverage," she said. "If you're going to be a country that discriminates on somebody solely based on their faith, solely based on their skin color … to me, that doesn't fit our value of our country."
Palestinian nationalism is the first national movement in world history conceived for the express purpose to serve as an instrument for the genocide of an existing nation. The Palestine Liberation Organization (PLO) flag represents a foreign entity that has engaged in terror.
Here, the uncle of Tlaib offers tea after her victory in Beit Ur Al-Fauqa off of Highway 443 to Jerusalem. Beit Ur Al-Fauqa is the source of frequent rock and firebomb attacks on Israeli commuters:
Uncle of Tlaib offers tea after her victory, in Beit Ur Al-Fauqa
Reuters