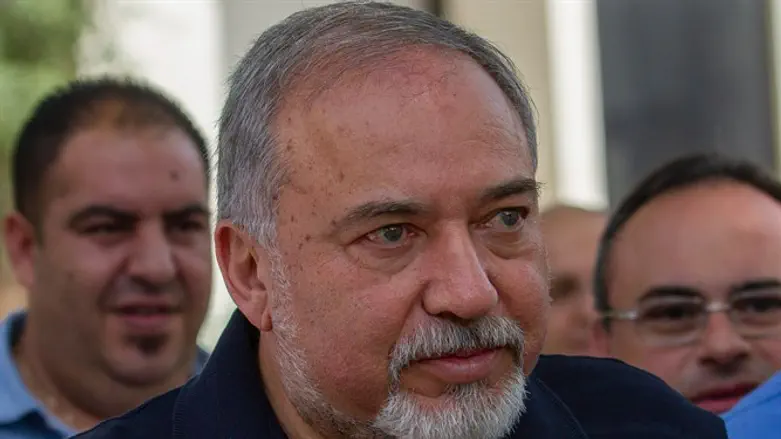 Liberman
Flash 90
A new report says that Defense Minister Avigdor Liberman lobbied senior haredi politicos from the United Torah Judaism party to support Jerusalem mayoral candidate Moshe Leon.
Moshe Leon will face off with Ofer Berkovich in a November 13 runoff after neither one mustered the 40% support in Tuesday's elections that is required to win outright.
According to Hadashot, Liberman asked MK Meir Porush and acting Health Minister Yaakov Litzman to support Leon in the upcoming runoff.
The allegations were denied by the Defense Ministry, which said in a statement that "the defense minister does not discuss the wording of the draft law with anyone. There is an excellent law, the only one possible. We hope that everyone will be convinced and will receive it in full."
Leon, a close confidant to both Liberman and Shas leader Aryeh Deri, has recently been dogged by allegations that the defense minister offered to drop his opposition to a law enabling yeshiva students to avoid the IDF draft in exchange for supporting Leon.
A recording unearthed last week seemingly suggested that Leon's considerable haredi support came from a backroom deal to enshrine IDF draft deferments for yeshiva students.
According to Yediot Aharonot, Leon can be heard in the recording telling local power brokers that Liberman will enable the Draft Law to pass if Shas and UTJ throw their weight behind Leon. Leon told the assembled group that "the draft deal will work out" because Liberman "had met with [UTJ leaders] Litzman and Gafni", something he said was "a national secret".
Leon responded by alleging that his remarks were said in jest. "Knowing the facts, it is clear to me, as it is clear to every reader, that these are matters that were taken out of context," Leon said.
The Shas and UTJ factions have been attempting to pass the Draft Law for more than a year. Their law would enshrine Torah study in the "Basic Laws" of the State of Israel, circumventing the Supreme Court's ruling that deferments and exemptions for yeshiva students are unconstitutional and making the exemptions for full-time yeshiva students permanent.
Yet the coalition's efforts have been repeatedly stymied by Liberman, who refuses to support a bill that is not endorsed by the defense establishment. Earlier this year, Liberman said that his party "will not allow the law to pass unless without a discussion...and the insertion of the changes we demand." This, Liberman insisted, would happen "even if it comes at the cost of breaking apart the coalition."