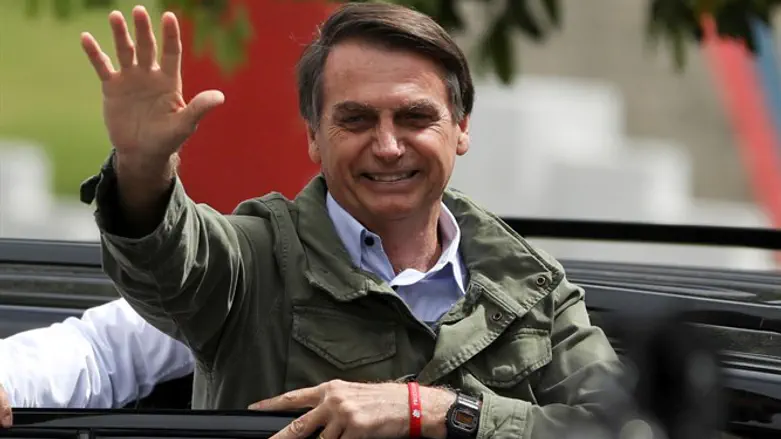 Bolsonaro
REUTERS/Pilar Olivares
Brazilian President-elect Jair Bolsonaro announced his plans Thursday to relocate his country's embassy in Israel from Tel Aviv to Jerusalem.
Bolsonaro was elected Sunday, defeating Workers' Party candidate Fernando Haddad, the former mayor of Sao Paulo, by a ten-point margin, 55% to 45%.
A staunch supporter of Israel Bolsonaro had vowed during the campaign to relocate the Brazilian embassy in Israel to Jerusalem, following in the footsteps of the US and Guatemala.
On Thursday, Bolsonaro announced via Twitter that he intended to uphold his campaign promise.
"As previously stated during our campaign, we intend to transfer the Brazilian Embassy from Tel-Aviv to Jerusalem. Israel is a sovereign state and we shall duly respect that."
Earlier on Thursday, Bolsonaro spoke with Israel Hayom, emphasizing his support for the Jewish state and suggesting that he was inclined to move the Brazilian embassy.
"Israel is a sovereign state," he said. "If you decide on your capital, we will go according to that. When I was asked during the campaign whether I would [move the embassy if I was elected], I said yes, and the one who decides on the capital of the state of Israel is you, not other nations."
"As for the Palestinian embassy," he added, "it is built too close to the president's palace...No embassy can be so close to the president's palace, therefore we intend to move it from its place and there is no other way, in my opinion."
"Besides, Palestine first needs to be a state before it has the right to an embassy."
A former army captain and Rio de Janeiro federal deputy, the 63-year-old Bolsonaro won Sunday's vote on a law-and-order platform, as Brazil faces an ongoing surge in violent crime.
Knesset Speaker Yuli Edelstein welcomed Bolsonaro's announcement Thursday, calling the president-elect a "wonderful friend" of Israel.
"A moving announcment by the president of Brazil, my friend, Jair Bolsonaro, that he will move the Brazilian embassy to Jerusalem, our eternal capital. As I already said, President Bolsonaro is a wonderful friend of the Jewish people and the State of Israel. Thank you so much, Brazil!"