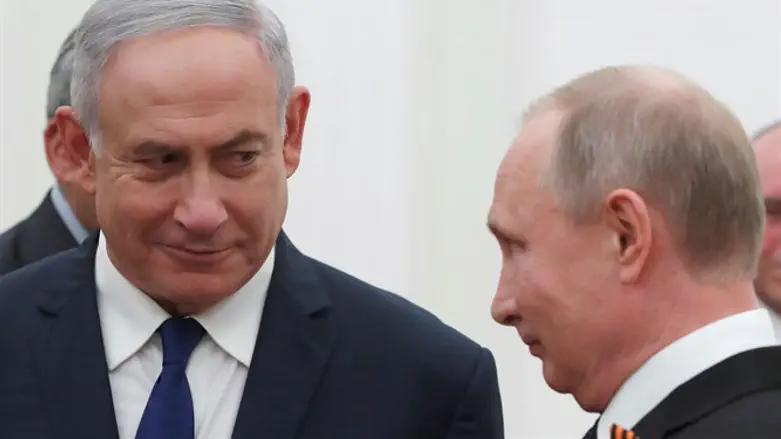 Netanyahu and Putin
Reuters
Russian President Vladimir Putin's agenda for his November 11 visit to Paris does not include a bilateral meeting with Prime Minister Binyamin Netanyahu, Kremlin Spokesman Dmitry Peskov told reporters on Tuesday, according to the TASS news agency.
The two leaders may, however, hold a brief conversation during the day's events, he added.
"The Paris visit's agenda includes only one bilateral meeting, which will be with [US President Donald] Trump," he said, adding that preparations for the meeting "are underway."
"Apart from that, Putin is scheduled to attend memorial events [marking the 100th anniversary of the World War I Armistice - TASS], so he will have an opportunity to hold brief conversations with other participants, including Netanyahu," said Peskov.
"A bilateral meeting [between Putin and Netanyahu] will depend on the decisions that the [Russian President] and the [Israeli] prime ministers will make, but the current agenda does not include it," Peskov added.
Putin, he explained, "will be unable to arrive in France one day prior [to the celebrations] as he has other plans, and France has prepared a lot of activities that will take place on the very day [of the memorial events]. This is why there is currently no clear understanding in this regard."
His comments came a day after a senior Israeli official indicated that Netanyahu and Putin could meet next month to discuss the situation in Syria.
Netanyahu and Putin have held several meetings in recent months over Israel's concern over the Iranian presence in Syria.
Relations between the countries have cooled since the downing of a Russian reconnaissance plane over Syria last month.
An IL-20 reconnaissance aircraft was reported missing over Syria in mid-September, following an Israeli airstrike on a military research facility in northern Syria.
The plane, which was carrying 15 crew members, was later declared lost, after apparently being downed by a Syria surface-to-air missile.
Russian officials blamed Israel for the downing of the IL-20, saying the IDF had provided just one-minute advance notice of the impending airstrike to Russian Defense Ministry officials, adding that the Israeli fighter jets had used the IL-20 to draw the Syrian air defense network's fire.
Israel denied the claims, saying its jets were already out of the combat zone and in Israeli airspace when the IL-20 was downed, and that the IL-20 had been far from the area of the airstrikes during the Israeli operation.
An IDF delegation was later dispatched to Moscow to share information collected by Israel as part of its investigation into the incident.
The Russian government refused to accept the validity of Israel's investigation into the incident, however. Putin told Netanyahu late last month that he did not accept Israel's claims that Israel Air Force fighter jets operating in Syria did not use the Russian plane as radar cover.