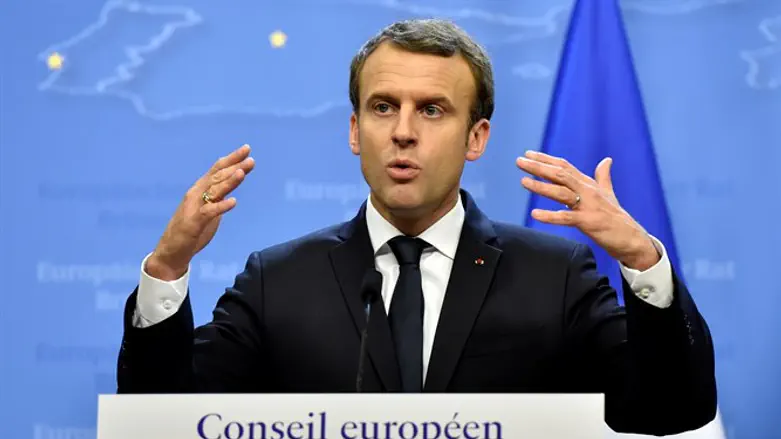 Emmanuel Macron
Reuters
French President Emmanuel Macron on Saturday condemned the shooting attack at the Tree of Life Synagogue in Pittsburgh in which 11 people were murdered.
Meanwhile, France increased vigilance at places of Jewish worship around the country following the attack, reported AFP.
Macron said in a tweet he "strongly condemns the act of anti-Semitism in Pittsburgh" and added that his thoughts were with the victims and offered his support to the grieving families.
French Interior Minister Christophe Castaner later said in a tweet that he had told local authorities to "increase vigilance around synagogues" from Sunday.
"Anti-Semitism kills and anti-Semitism has no borders. The terrible attack in Pittsburgh is tragic proof," the interior minister wrote, according to AFP.
"In Pennsylvania, as in our own country, we remain united against hate," he added, expressing solidarity with the American people.
France's half-a-million-plus Jewish community is the largest in Europe but has been hit by a wave of emigration to Israel in the past two decades, partly due to the emergence of a virulent strain of anti-Semitism in predominantly immigrant neighborhoods.
In recent years, France has seen several cases of extreme violence against Jewish victims whose attackers singled them out for robbery, rape and murder because they were Jewish.
In March, 85-year-old French Holocaust survivor Mireille Knoll was murdered in her apartment in Paris.
Prosecutors later indicted two defendants in connection with what is being tried as a murder with aggravated circumstances of a hate crime. They are also charged with robbery.
One of the suspects in custody, a 29-year-old Muslim man, was a neighbor of Knoll. Prosecutors investigating the murder have confirmed the two suspects in custody targeted her because she was Jewish.
Several days after Knoll's murder, the office of the French Jewish Students Union at the University of Paris was broken into and vandalized with anti-Israel and anti-Semitic graffiti.
The same week, the French Jewish student union reported that a room that it used at the Sorbonne university in Paris had been completely defaced.
Macron was in Istanbul on Saturday, taking part in a summit on Syria with the leaders of Turkey, Russia and Germany.